You are here
Come Down With a Case of the Blues at the Sophia M. Sachs Butterfly House
The Sophia M. Sachs Butterfly House is coming down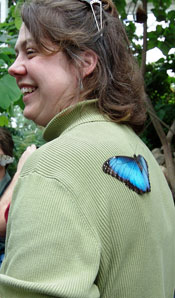 with a serious case of the blues. No, those Herculean-like cockroaches aren't clinically depressed. But they are celebrating the opening of the Butterfly House's annual exhibit, March Morpho Mania.
For eleven months of the year, visitors will find around 300 Common Blue Morpho butterflies fluttering amidst the conservatory's ecosystem of lush tropical plants. But every March, the number swells to around 2,000, creating a spectacular sea of blue that you won't want to miss!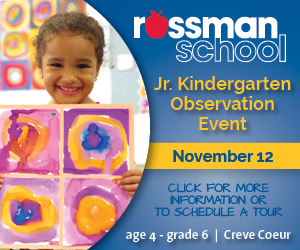 During this special event, the 8,000-square-foot tropical conservatory will be transformed into a single's bar as hundreds of Blue Morpho Males cruise around the hot house trying to attract females and establish their territory.
Hundreds more can be seen fluttering amidst the greenery of the lush tropical plantings or dining on bananas and other fruit presented on hanging feeding plates. "This is by far the largest exhibition of Blue Morpho butterflies found anywhere in the country," said Mark Deering, director of the Butterfly House.
The Blue Morpho's dazzling, metallic blue is all in the eye of the beholder — their wings are not actually colored blue, but are lined with many tiny scales that only allow blue light to escape. Check out these amazing wings for yourself under a microscope at the Lopata Learning Lab.
Families are invited to stop by the lab every weekend in March for fun activities and crafts. Learn about the Common Blue Morphos' tropical rainforest home, explore their life cycle, examine the critical role butterflies play in nature and much more. All activities are free with admission.
March Morpho Mania is taking place daily (except Mondays) from 9 a.m. to 4 p.m. at the Sophia M. Sachs Butterfly House. This event is included with Butterfly House admission of $6 for adults, $4.50 for seniors (ages 65 and over) and $4 for children ages 3 to 12. Children ages 2 and under and Missouri Botanical Garden members are free.
By Andrea Wilson, Events Blogger for SmartParenting
Images courtesy of the Missouri Botanical Garden

---