You are here
Elizabeth Mitchell You Are My Flower at COCA
Smithsonian Folkways Recording artist, Elizabeth Mitchell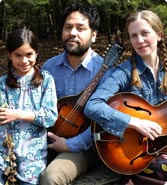 has released five albums of children's music, including You Are My Little Bird, which was voted Best Children's Album by Amazon.com. Mitchell has collaborated with musicians including Levon Helm, Dan Zanes, Ella Jenkins, Jon Langford and Ziggy Marley. She records and performs with her husband, Daniel Littleton, and daughter, as well as violinist Jean Cook. Popular recordings include You Are My Flower, You Are My Sunshine, Catch the Moon with Lisa Loeb and, in 2010, Sunny Day. All ages. 7 to 8 p.m. Various prices. Center of Creative Arts (COCA).
Shows continue through the weekend.
More information: cocastl.org or (314) 725-6555.
---