You are here
March Morpho Mania Educational and Family Activities
Celebrate March Morpho Mania with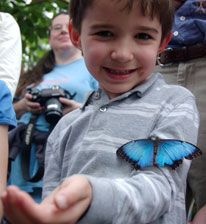 family-friendly activities at the Butterfly House. This week, youngsters can learn about butterfly farming. Participants will make a small craft caterpillar and examine how cloth sleeving on the host tree will protect it from predators.
They will also sort, pack and "ship" pretend chrysalides and learn how entomologists unpack and hang them to await emergence. Ages 2 to 12. 10 a.m. to 3 p.m. Included with Butterfly House admission. The Lopata Learning Lab in the Butterfly House.
More information: butterflyhouse.org or (636) 530-0076.     
---