You are here
OMNIMAX Movies at the Saint Louis Science Center
Catch a movie or two at the Saint Louis Science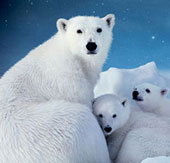 Center's OMNIMAX  Theater, where films are shown with the power of IMAX film technology. Sit under the four-story screen while taking in breathtaking, awe-inspiring scenery in a state-of-the-art, wrap-around, domed theater.
Now Playing:
To The Artic: To The Arctic tells the story of one mother polar bear's determination to keep her cubs alive in the face of natural predators and a rapidly changing climate. The polar bear has become the symbol of change in the Arctic and our impact on the planet, but this story is not just about a species' struggle for survival. Home to people, animals and sea creatures that thrive in this frigid environment, the Arctic Circle is facing dramatic changes that threaten to disrupt this delicate balance of life.
Rocky Mountain Express: Rocky Mountain Express propels audiences on a steam train journey through the breathtaking vistas of the Canadian Rockies and highlights the adventure of building a nearly impossible transcontinental railway.
The Dark Knight Rises:  Eight years after Batman took the fall for Two Face's crimes, a new terrorist leader, Bane, overwhelms Gotham's finest, and the Dark Knight resurfaces to protect a city that has branded him an enemy. Rated PG-13 for intense sequences of violence and action, some sensuality and language.
Showtimes vary daily. For showtimes and tickes, to go to www.slsc.org
Discounts available for groups of 10 or more. Call 800-456-SLSC x4424 or 314-289-4424 for group ticket information.
---