Thu, 05/25/2017
Fri, 05/26/2017
Sat, 05/27/2017
Sun, 05/28/2017
Mon, 05/29/2017
Mon, 05/08/2017
Tue, 05/09/2017
Wed, 05/10/2017
Thu, 05/11/2017
Fri, 05/12/2017
Sat, 05/13/2017
Sun, 05/14/2017
Mon, 05/15/2017
Tue, 05/16/2017
Wed, 05/17/2017
Thu, 05/18/2017
Fri, 05/19/2017
Sat, 05/20/2017
Sun, 05/21/2017
Mon, 05/22/2017
Tue, 05/23/2017
Wed, 05/24/2017
The James S. McDonnell Planetarium in Forest Park features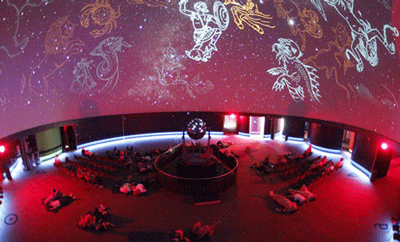 shows in the Orthwein StarBay daily. A 25-minute day sky Planetarium Show plays daily, along with:
• The Little Star That Could. Recommended for early childhood groups, The Little Star That Could is the story of an average star that travels the universe and makes many discoveries along the way.
• Live Sky: Southern Stars: This show, recommended for grades 6-12, takes you on a quick trip to see the stars as they appear at the North Pole, then heads south of the Equator to see constellations that never appear in St. Louis skies.
• Live Sky Tonight. This all live show features the Planetarium projector showing a brilliant simulated night on the Planetarium's 80-foot dome. The show, recommended for all ages, features what is currently visible in the night sky, including constellations, planets, current Moon phase and any other special astronomical events, such as meteor showers or comets. It also features current space exploration such as the rover on Mars.
After the show, you can take a self-guided tour of the Boeing Space Station to learn about living and working in space.
Admission is free for members of the Saint Louis Science Center, Non-member adults are $6, children and seniors are $5 and military personnel at $4.
Shows play daily hourly on the half hour. For a schedule and more information, go to slsc.org/planetarium-shows
At the James S. McDonnell Planetarium in Forest Park.
Click For Directions