You are here
Shark Week at the St. Louis Zoo
Celebrate Shark Week at the St. Louis Zoo with special activities all week and free admission to the Stingrays at Caribbean Cove Featuring Sharks exhibit to those wearing a shark costume.
Come to the Zoo dressed as a shark July 31 - Aug.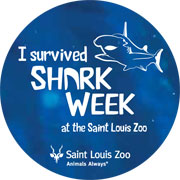 , and get into Stingrays at Caribbean Cove featuring Sharks exhibit for free! Paying customers to the exhibit will be awarded an "I survived Shark Week at the Saint Louis Zoo" sticker, which will earn them 10% off at food and retail venues around the Zoo. Kids will receive a shark and stingray activity book upon their entrance to the Cove.
On Monday, August 1, and Wednesday, August 3, from 12 noon to 3 p.m., take a tropical trip to the Caribbean with The Lenny Frisch Duo, a steel drum band playing live music outside Caribbean Cove. Be sure to swim by at 1:30 p.m. those days to participate in a friendly shark frenzy! On Friday, August 5, flit your fins at the Jungle Boogie concert featuring Charles Glenn, from 5 to 8 p.m. at Schnuck Family Plaza in the center of the Zoo.
Make a pit stop at Ray's Grill next door to the pool for a shark dog special. Adults can refresh themselves with "shark juice" or a Land Shark lager.
Stop by a craft table to assemble your very own Chompy the Shark to take home as your papered pet. Interpreters will be floating around the Zoo to enlighten guests about Shark Week and spin tales about their toothy friends.
Help your child brag about his/her bravery for years to come by purchasing an "I survived Shark Week at the Saint Louis Zoo" t-shirt in wave blue.
The bonnethead, white-spotted bamboo and nurse sharks at Stingrays at Caribbean Cove are small, shy and docile fish and pose no danger to humans. They range from two-and-a-half to four feet in length and are bottom-dwelling species that prey on small fish, crabs and invertebrates.
The Saint Louis Zoo is open Monday-Thursday from 8 a.m. to 5 p.m., and Friday-Sunday from 8 a.m. to 7 p.m. Admission to the Zoo is free. Admission to Stingrays at Caribbean Cove featuring Sharks is $3 for non-members and $1.50 for members. Children under 2 are free. Admission is free to all from 8-9 a.m. Visitors dressed in shark costume are free during Shark Week, July 31-August 5, 2011, but those over the age of 13 must comply with the Zoo's adult costume policy.
For more information about Shark Week at the Saint Louis Zoo, visit www.stlzoo.org/sharkweek.
---