You are here
Towne Park Dedication in St. Charles County
The St. Charles County Parks Department will formerly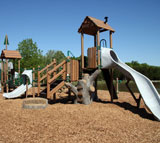 dedicate its newest park development, Towne Park, situated off Highway 61, north of Wentzville, beginning at 11 a.m., Friday, May 11, during a ribbon cutting ceremony. 
Rich in St. Charles County history, the 109-acre park features a reconstructed 1800s historical homestead, formerly known as the Pink Plantation; the only Certified Nature Explore Classroom in St. Charles County; paved and natural surface trails; a large fishing pond; picnic areas, a play set and scenic rain gardens for the public to enjoy.  Experience history, nature and education all coming together at Towne Park.
The celebration of the new park continues into Saturday, May 12 when Living History Company reenactors and others will perform from 10 a.m. to 2 p.m. Demonstrations include shawl weaving, materais dying, and cast iron restoration. All ages are welcome.
More information: www.stccparks.org
---