You are here
Dance In the Streets During Macklind Days
There's nothing South St. Louisians like better than an old fashioned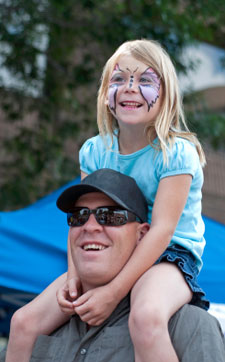 street festival. So warm up your washer-throwing arm, lace up your running shows and head down to SOHA's (South Hampton's) Macklind Days.
Now in its third year, this annual event was started to showcase and promote local businesses during a family-friendly, neighborhood festival. The fun kicks off with one of the area's most unique races, The Macklind Avenue Mile. With over 1,500 runners in 2011, this downhill run is the area's largest one-mile road race.
"Totally Rad" Macklind Avenue Mile Awards will be given to the top three overall male and female finishers as well as the top three in each male and female age division.
Little ones will love receiving a ribbon after they complete the kids Quarter Mile Dash. Races begin at 9 a.m. and post race party begins at 10:30 a.m.
After the race, celebrate your victory (and by victory I mean finishing the race) with live music, local food and drinks, belly dancers, fire performers, art, kids activities and a fireman's safe house. No south city party is complete without a washer's tournament.
Partygoers with big appetites can win big bucks during Manzo's sausage-eating contest. This festival is also a great opportunity to sample some local restaurants. Get your caffeine fix with a delicious coffee from Murdoch Perk or fuel up for a day of fun with a sandwich from Macklind Avenue Deli.
Macklind Days is taking place on Macklind Avenue between Devonshire and Nottingham from 11 a.m. to 8 p.m. on Saturday, June 30. Admission is free.
By Andrea Wilson, Events Blogger for SmartParenting 
---