You are here
More Parents Are Seeking Chiropractic Care for Their Kids, Including Babies
Here's a statistic for you to ponder: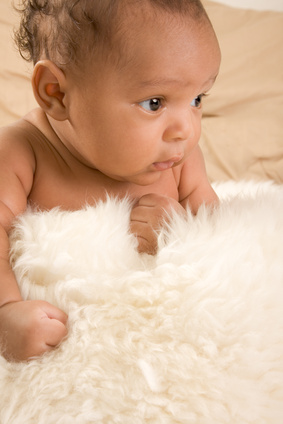 About a fifth of all chiropractor visits are for children younger than 18. Starting with newborns.
Surprised? I was. When a friend mentioned recently that her midwife had referred her 1-week-old daughter, who was struggling with breastfeeding, to a chiropractor, it seemed like a long shot.
As it turns out, there is widespread belief that the intracranial pressure and birth trauma some babies experience can affect their necks, resulting in symptoms like not latching on well during nursing, difficulty sleeping, or general fussiness.
Dr. Cory Webb, a St. Charles-based chiropractor with 16 years' experience, has examined scores of newborns for a subluxation, or out-of-position bones in the spine. The bones can put pressure on spinal nerves. Sometimes, Webb explained, this interferes with how those nerves function, meaning that babies with a subluxation in the neck or back could well have other parts of their bodies that aren't functioning quite right.
Webb believes in early exams very strongly, and he walked the talk with his own children. "We had three home births — one a medical birth and two with midwives — and I checked them all within a minute of birth," he said.
Because of the unique physiology of pregnant women, babies and older children, the International Pediatric Chiropractic Association offers trainings that go above and beyond what chiropractors may have learned about the specialty in school (which, according to Webb, was adequate but not in-depth). Treating babies and children is not like treating little adults; for starters, "your spine's not solid until you're 18 to 21," Webb said. 
There are four levels of certification through the IPCA (its homepage includes a link for searching to find a member in your part of St. Louis). Other organizations and some schools of chiropractic offer pediatric certification as well.
Like many chiropractic practices, Webb said his, Health First Chiropractic Clinic, is all about is prevention rather than treatment. "Change your oil rather than your engine" is how he describes it. He is convinced that "a lot of problems don't show up until the baby is 2 or 3 or 5," but they might have been prevented by adjustments early on in life.
The preventative approach extends to pregnancy as well. Webb said he sees between 15 and 30 expectant moms each week. "The whole birth process doesn't start when you go into labor," Webb said. "It starts when you get pregnant.
"If you can make sure the mom's pelvis and birth canal are working properly," he said, "then there will be less stress on the baby." He also is trained to use the Webster Technique, which reduces stress on the pelvis and helps relax the uterus and surrounding ligaments.
Webb advocates that women consider alternatives to the most common American birthing position, lying prone on the back. In other countries, labor and delivery often happen standing, sitting or squatting to take advantage of the pull of gravity. But in the end, he said, "no matter what kind of birth [the mother decides to pursue], we try to make sure the mom's body is working as well as it possibly can."
For older children, Webb recommends parents seek out a chiropractor with a pediatric certification to do evaluations for potential problems like spinal curvature or scoliosis. "In terms of biomechanics, it's critical to make sure that your spine is straight and moving as you grow."
Editor's note: For the past 15 years, Webb has been offering free classes to new or prospective chiropractic patients. The class (6 p.m. on Tuesdays) is open to anyone. To learn more, call 636-946-3600.
---

By Amy De La Hunt, Health blogger for SmartParenting
---