You are here
The Soda Ban: It's a Sticky Situation
If you're anything like me, when the nights are short and the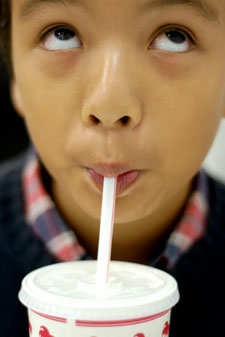 days grow long, sometimes you just want to head to your neighborhood joint for a drink. The one where everybody knows your name and they hook you up with the good stuff.
 
That's why, at least twice a week, I burn off steam at my local QT where I have a multitude of icy-cold, high fructose corn syrup beverages at my disposal. My go-to is a 22-ouncer, packed with caramel color and caffeine, served on the rocks.
As with any vice that gives us pleasure – like street gambling or talking smack about a Kardashian – The Man is attempting to curb our fun through legislation. And this time, they're on track to put the kibosh on our soda fix. 
In New York City, Mayor Michael Bloomberg proposed a 16-ounce limit on any sugar-filled drink, including sodas, sweetened teas, and energy drinks, that contains more than 25 calories per eight ounces and is sold at a restaurant, movie theater or other food service outlet. That means New Yorkers will have little more than one can of soda to sustain them through Abraham Lincoln: Vampire Hunter, and even crazier, no free refills! 
This past week, the mayor of Cambridge, Mass.and a city councilman for Los Angeles stepped up to propose their own bans in their respective cities. Councilman Mitch Englander, for instance, called for a boycott of sugary sodas in vending machines in Los Angeles parks and libraries after his daughter was unable to purchase a healthier beverage. Furthermore, the American Medical Association just adopted a policy of supporting the idea of using soda taxes to pay for obesity-fighting programs. 
The nation's weight problem is a frightening one. According to the Associated Press, one-third of adults and almost one in five children are obese, and sugary drinks are a main culprit of the growing epidemic. This weight gain is leading to serious health repercussions earlier and earlier in life, significantly increasing one's risk for heart problems, diabetes and stroke. 
When introducing his motion, Englander pointed out that a 20 ounce bottle of soda contains 22 packets of sugar. Combined with ingredients like caffeine and phosphoric acid, these sugar-loaded drinks not only fill us with empty calories, but lead to both short- and long-term health problems. 
Although we've known soda's bad for us since we got our first cavity filled at the dentist, that doesn't mean we want to put down the can. The Centers for Disease Control and Prevention reported that more than half of Americans drink at least one soda a day, and especially scary, according to the Department of Agriculture, soda is the third-highest source of calories for kids and the fourth-highest source for individuals 19 and older. 
While protecting our children's health is at the forefront of these efforts, the boycott also steps on an adult's ability to take responsibility for his or her own actions. Banning sodas from school vending machines -  that I can get on board with. If I give my five-year-old $1 and told her to pick out a drink from the machine, the kid ain't grabbing a Dasani, no matter how many times we've talked about making healthy choices. 
But sometimes, when the craving starts to hit, the grown-up, 35-year-old me just wants a giant, 32-ounce McDonald's Coke to wash down my 540-calorie Big Mac. However, as a grown-up, I know my decision means my beverage choice for the rest of the day will be water and I can't make any excuse to back out of my workout that night. 
The other issue is, where does the ban stop? Prohibition proved you can still be an alcoholic when there's a ban on booze. People know cigarettes cause lung cancer, but that doesn't mean they'll stop puffing their income away on cigarette taxes. If there's a ban on soda, should the government also start limiting the size of pie and watching over us to make sure we hit the treadmill every day? 
The soda ban will continue to be a sticky issue for parents and officials alike, so the question is where do you stand – to ban or not to ban? 
By Nicole Plegge, Lifestyle Blogger for SmartParenting
---