You are here
St. Louis will Host International FIRST Robotics Championships
A few weeks ago we reported on the FIRST (For Inspiration and Recognition of Science and Technology) Robotics Regional Competition. Under strict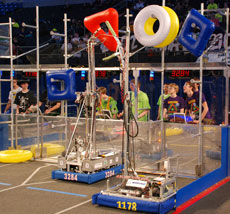 rules, time constraints and limited resources, teams of 25 students built a robot to perform tasks against a field of competitors. Students from more than 40 high schools in Missouri and eight other states battled their bots at the Chaifetz Arena in March. The top performing teams not only earned bragging rights but also a ticket to the preeminent celebration of Science, Technology, Engineering and Math (STEM) at the National Championships.
Luckily for us St. Louisians, the worldwide FIRST Robotics Competition (FRC) Championships are being held next week at the Edward Jones Dome.
At this "varsity sport for the mind," two alliances of three teams will compete on a 27-by-54-foot field in the "LOGO MOTION" robotics game.
Teams will earn points by hanging as many triangle, circle and square logo pieces as possible. Bonus points will be earned for each robot that can hang and assemble logo pieces to form the FIRST logo. Robots can also deploy mini-bots to climb vertical poles for a chance to earn additional points. 
At the regional competition in March, an alliance of high school robotics teams from Hazelwood Central High School, University City High School and Camdenton High School 4-H took first place and will compete next week at the international competition. In second place was an alliance including the Gateway Institute of Technology, St. Louis Public Schools, Wentzville Holt and Timberland High Schools, and the Metal Storm team from the Saint Louis Science Center YES Teens Program and University of Missiori Extension. The prestigious Chairman's Award was presented to the Channel Cats team from St. Charles County.
Founded in 1989 by inventor Dean Kamen, FIRST was designed to turn young people on to career opportunities in science, technology, engineering and math. Kamen is the inventor of the Segway human transporter and the insulin pump used by diabetics, among other inventions.
Not only will these kids have the invaluable and very cool experience of delving into real world engineering by building their very own robot, they also have a chance to receive their share of $14.8 million in scholarship money. Who knew something so fun could be so profitable!
The 2011 FIRST National Championships are being held from April 27 to 30 at the Edward Jones Dome. All events are free to attend and open to the public. For more information or for a complete schedule of events, visit FIRST's website. The event is expected to draw more than 22,000 visitors to our city.
By Andrea Wilson, Events Blogger for SmartParenting                            
---