By
Editor
|
Thu, 12/01/2011 - 12:06am
A child's first impressions of formal education begin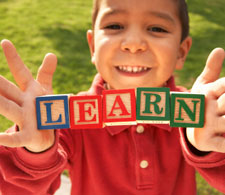 taking shape the moment they first toddle through the doors of preschool. Choosing the right environment is the first of many pivotal education decisions parents must make.
When it comes to early childhood education, the four education models most frequently found in St. Louis preschools are Montessori, Reggio Emilia, Waldorf and Project Construct. Each philosophy approaches childhood learning from a unique perspective, which results in very distinct models of teacher and student interactions, classroom environments, and curriculums.
Montessori

Teachers in a Montessori classroom plan educational materials and activities to address the needs of the children they serve via skilled observation and relationships developed with the children. In a Montessori classroom practical life skills, such as dish washing, food preparation, and self-care, are stressed early on, and educational materials are geared towards helping children learning with through their senses.
Anita Chastain, director of Chesterfield Montessori School explained, "Our teachers serve as resources, guides and observers in the children's individual process of learning. Each child is regarded with respect and dignity, and is encouraged to learn at the pace that is best for him/her."
Developed in Italy by scientist Dr. Maria Montessori, the Montessori educational philosophy is respect-based, and the goal is to meet the emotional, social, cognitive, and physical needs of the whole child while instilling a deep sense of community through outreach and compassion-based learning. Mary Denise-O'Boyle, director of Hope Montessori in Wildwood, said, "The ramifications of that in our global world means children are prepared to enter a global society."       
Reggio-Emilia
Deeply rooted in community learning and heavily project based, Reggio-Emilia education is based on the belief that children perform best when they are given control over their learning. The Reggio-Emilia classroom is grounded in the principle that learning happens socially, and thorough contextual, creative explorations.
Reggio-Emilia educators are trained to observe the classroom community to guide their interests into in-depth, long-term project that the class completes together. This project becomes the focus of the curriculum through the year, and students explore their subject thoroughly, through math, art, language, and science- meeting educational milestones in context of their project experience.
"When you get your body into it, those are the experiences you remember," explained Brandi Cartwright, dean of Raintree Learning Community in Ballwin. Students are "approaching interests from every angle, richly."  
The community aspect of the Reggio-Emilia approach extends beyond the curriculum, and practitioners regard parents as an integral part of that community, sharing snippets of conversations and news with the parents as an important part of the educational process.
"Reggio reminds us that [as educators] we are there to watch, listen and record as they are becoming unique people," Cartwright said, "We are listening to children and sharing what we see with parents."
Waldorf
The Waldorf philosophy emphasizes that each stage of child development has specific needs and abilities, and the curriculum is structured to best take advantage of a child's developmental level. In early childhood that means understanding that children learn through imitation and engaging all five senses.
Ann Weidemann, director of Shining Rivers Waldorf School in Webster Groves, said, "At this age, senses are a child's primary input. We make sure that classes are filled with the most fulfilling elements. In a classroom you will hear soft music, smell baking bread, and see soft, warm colors like those a child would see at home."
Play-based education and imaginative learning experiences are important to young children, and Waldorf classrooms provide children with naturally made, open-ended materials that are inviting to children. Materials are there for children to explore and create, with little direction as to conventional use, and art projects focus on the experience as opposed to the end product.
Waldorf teachers are trained to hold the classroom as a patient observer, and are very deliberate, gentle and compassionate as they guide children through the rhythm of their day, always aware that they are models for the children.
Teachers introduce new concepts through story-telling using advanced vocabulary and give children daily opportunities for physical movement and outdoor play. Weidemann explains, "Their play is their work," and that work is creating.
Project Construct
Developed by the Missouri Department of Elementary and Secondary Education, the Project Construct model helps children develop creative exploration and inquiry skills through hands-on learning experiences that are developed specifically to meet the needs of the individual child.   
Through daily, observational assessments and regular evaluations, the Project Construct classroom curriculum is constantly evolving to meet the individual educational needs of each child. Assessments help teachers understand where the child is developmentally, and allow them to provide each child with hands-on experiences that develop core content skills.
"Math, science, social/emotional, literacy, and health and nutrition are all integral parts of what we're studying," said Kathy Drews, director at the St. Charles Community College Child Development Center. "We are trying to make competent learners."
To encourage play-based exploration, classrooms are filled with open-ended materials that encourage children be creative problem solvers. Children are encouraged to explore materials through centers that include reading corners for literacy, areas for puzzles and blocks, a home skills area for dishwashing and clothing care, an art center, and a science area.
Teachers watch and record as children decide for themselves where their chosen activities are headed.
Drews explained, "As with a lot of curriculums, Project Construct is based on the fact children learn through interaction with the world and play."
While there are some areas of overlap between the philosophies, each model has unique elements, and each school has it's own unique take on, or combination of, philosophies. Choosing the right school really comes down to understanding the child, and finding the philosophy that suits them best.
By Melody Meiners, who writes frequently on education issues for St. Louis Kids Magazine.
This article first appeared in the Fall/Winter 2011 issue of St. Louis Kids Magazine.

Comments