You are here
Forest Park is Your One-Stop for Earth Day Family Fun
There is no greener mode of transportation than riding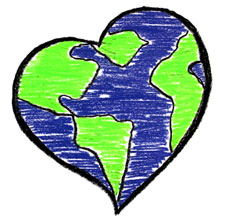 your bike. With gas prices hovering near $4 per gallon, pedal power is not only good for the planet, it's good for your wallet. Plus, cycling is fun for the whole family.
Explore the natural ecosystems of Forest Park during Pedal for the Planet on April 22. Bike the 6-mile route on your own or join the naturalist-led group tour at 9:30 a.m. Trailnet will offer free helmet fittings and helmets for the first 50 kids. Route maps provided at registration.
Pedal for the Planet • Sunday, April 22 • 9 a.m. to 1 p.m. • Free • Front lawn of the Missouri History Museum
• Forest Park is also home to the third largest Earth Day celebration in the country. Divided into themed-neighborhoods such as "Arts and Crafts," "Home and Pets" and "Recreation and Wildlife," the St. Louis Earth Day 2012 Festival will show how ordinary people can do extraordinary things to save the environment.
Enjoy live music by the Funky Butt Brass Band, Farshid etniKo, iLLPHONiCS, Scarlet Tanager and other local entertainers. Little ones will love creating a musical instrument, mask or prop with re-purposed materials at the Teachers' Recycle Center. Get your face painted with safe, FDA-compliant cosmetic makeup and glitters and show off your new creations during the All Species Parade at noon. Take the Earth Day Challenge by bringing a bag for purchases, a water bottle to refill or use alternative transportation to get to Forest Park. Visitors who accomplish two of the three challenges will receive an eco-friendly prize at the Information Booth.
St. Louis Earth Day 2012 Festival • Sunday, April 21 • 11 a.m. to 6 p.m. • Free admission • Muny Grounds in Forest Park
• If partying with a bunch of animals is more your speed, head over to the St. Louis Zoo for their Earth Day celebration. Visitors can celebrate with Earth-related activities and games, entertainment and animal enrichment at the Zoo.
Earth Day: Party for the Planet at the St. Louis Zoo • Sunday, April 22 • 11 a.m. to 3 p.m. • Free • St. Louis Zoo    
• Before you head down to the festivities in Forest Park, get rid of your hard-to-recycle household items at the Earth Day Recycling Extravaganza. Stop by Forest Park Community College to unload your unwanted appliances, outdated electronics, yard waste and even Capri Sun drink pouches. Thanks to the drive-through drop-off, you don't have to get out of your vehicle. In addition to helping the environment, your donated materials will also be supporting the programs of numerous non-profits. After your car is cleaned, leave it on campus and catch a ride to the Festival via a free shuttle service. Click here for a complete list of acceptable items.
Earth Day Recycling Extravaganza • Sunday, April 22 • 9 a.m. to 3 p.m. • Free • St. Louis Community College at Forest Park
By Andrea Wilson, Events Blogger for SmartParenting  
Photo via iStock    

Tags:
St. Louis family events
,
Trailnet
,
Things to do with kids in St. Louis
,
Pedal for the Planet
,
events for kids in St. Louis
,
activities for kids in St. Louis
,
event calendar for St. Louis kids
,
St. Louis Family Fun
,
Earth Day: Party for the Planet at the St. Louis Zoo
,
Earth Day Recycling Extravaganza at Forest Park Community College
,
St. Louis Earth Day 2012 Festival
,
Funky Butt Brass Band
,
Farshid etniKo
,
iLLPHONiCS
,
Scarlet Tanager
---