You are here
Education Word of the Week: Fluency
Anybody ever sit with a young-un' who's at that "just beginning to read" stage? It's kind of torture, isn't it?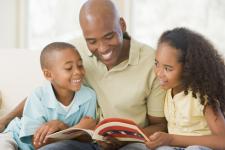 I mean, it's all kinds of sweet and adorable, but while you've read the entire page at a glance, analyzed the print format, tried to do the magic eye trick with the illustrations, that first-grader is still on the second line, painstakingly sounding out every word, sounding like a robot in a stuck mode.
Patience is a virtue, people! For early childhood teachers, especially those in kindergarten through about third grade, this is what our little guys sound like. And, guess what? It's completely OK. Reading with expression, clarity, and sounding like a flowing river is, believe it or not, a skill. And teachers, like me, have a name for it: fluency.
Fluency is defined as the ability to read text accurately and quickly but with correct phrasing, pacing, expression and attention to punctuation. When we look at developing readers, we specifically zone in on three areas: accuracy (how many words are correctly read), fluency and comprehension. Until you've mastered all three components, you're still considered to be in one of the stages of reading development.
Because parents are what they are and like to have a blueprint of their child's development, I often get asked when the appropriate age for fluency to kick in. Sorry, folks, Ms. Linde ain't that girl. The truth is, there's a wide window that would be deemed as appropriate here, from about seven years to about 15. So, if you must peg-hole your child, choose the middle of that age range.
Mostly we directly instruct fluency beginning around the end of first grade, beginning of second, depending on the child's needs. We wait until the accuracy is at a comfortable level (children are no longer sounding out words) before starting to talk about it. There are many differing methods to getting the point across to children, but really, it's the easiest of the three components to teach, because it's just a matter of modeling the skill to the child and then asking for a repeat performance.
Worth mentioning here is the "timing" component. Many methodologies and schools time students when reading and consider this factor in determining fluency. It is my belief a timer isn't needed and only adds extra stress to the reader. You, as a reader, have a feel for what's an appropriate pace and what's not. Sticking a kitchen timer in front of someone trying to read seems to take a big chunk of enjoyment out of reading. Forgo the timer and trust your instinct.
This site has some good ideas about what parents can do at home to help develop fluency,  along with a few links, but really, reading is a skill, and the way to improve any skill is that big P word – practice. Make sure your child is reading every day, be a good model, and fluency should work its way into the mix.
By Sharon Linde, Education Blogger for SmartParenting
---