You are here
Enjoy the Outdoors During the Great American Backyard Campout
I recently read that kids spend around eight hours a day on electronic media. Yikes! That doesn't leave much time for playing outside. I admit that between work,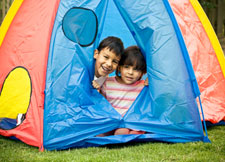 school, extracurricular activities, homework and making dinner it's hard to enjoy the great outdoors on a daily basis. But kids can reap many physical and mental benefits just by playing in the backyard. Besides keeping kids healthy, outdoor time also enhances creativity and attention span, decreases aggression and boosts classroom performance.
Here is an easy, cheap and fun way to pry your family off the computer and into the great outdoors. Saturday, June 26 is the sixth annual Great American Backyard Campout. They are encouraging everyone to spend the night under the stars and enjoy nature in the comfort of their own backyard. Collect fireflies, make s'more and tell ghost stories all while being feet away from indoor plumbing. Now this is the kind of camping trip I can get behind!
Whether you're camping with a pack of boy scouts or with your immediate family, register your campout on the National Wildlife Federation's website. You'll receive helpful information, campout recipes, nature activities, campfire songs and games, nocturnal wildlife guides and more. There's even a recipe for armpit fudge. Mmmmm. You'll also be provided a personal webpage and have the ability to invite other people to your campout or find existing campsites to join.
There is no fee to camp or to register, but campers have an option to help support the National Wildlife Federation's work of connecting kids with nature by raising money. Kids can win t-shirts, fleece blankets and more. If you can't camp on June 26, just pick another day. The National Wildlife Federation wants kids to get out and camp!
By Andrea Wilson, Events Blogger for SmartParenting    
---