You are here
Spend the Day Exploring Shaw Nature Reserve
Since 1980, Shaw Nature Reserve has provided visitors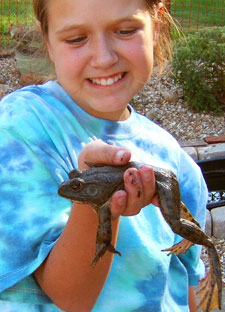 with 14 miles of hiking trails through a floodplain forest, upland woods, dolomite glades, tall grass prairie, oak-hickory woodlands and wetlands. Come learn about the wonders of nature at the Reserve during a special event that combines reading and nature.
During Tale Travelers, children ages 4 to 12 are invited to a special afternoon of stories and natural adventures. Put on your walking shoes and follow the signs from the Reserve's visitor center as you travel by foot to any of the dozen reading stations set up around the Pinetum Lake. At each stop, visitor's can listen to a nature-inspired children's story and participate in a related hands-on activity.
Some of the books featured this year include "A Log's Life" by Wendy Pfeffer, "Fairy Houses" by Tracy Kane, "The Wind's Garden" by Bethany Roberts, "Hatchet" by Gary Paulson and "The Salamander Room" by Anne Mazer. Children can plant seeds, investigate the tiny wonders inside a rotting log, build their own fairy house and more. Tale Travelers are invited to come for an hour or stay all afternoon for an adventure that's just the right length for them.
Tale Travelers is taking place from 1 to 4 p.m. on Sunday, April 15 at Shaw Nature Reserve. The cost is $4 per child for Shaw Nature Reserve and Missouri Botanical Garden members and $5 for non-members. Advanced registration required, so save your spot by clicking here.
Don't forget to bring your camera to Shaw Nature Reserve. Thanks to unusually warm weather, many of the spring woodland flowers have made an early appearance. A picture of the celandine poppies that blanket the hillside or a snapshot of shooting stars or wild hyacinth would make a great entry for Shaw Nature Reserve's Take a Shot Youth Photo Contest.
From now until June 15, budding young photographers ages 14 and under are invited to submit their pictures taken at the Reserve. Judged on subject, composition, creativity and difficulty, shutterbugs are encouraged to capture the best shots of flora, wildlife, miniature world of nature and people in nature at the Reserve. Photos will be judged on subject, composition, creativity and difficulty. Photographs will be on exhibit in the Reserve's Bascom House until August 30.
By Andrea Wilson, Events Blogger for SmartParenting
Photo courtesy of Shaw Nature Reserve
---