You are here
Express Your Style at the American Girl Fashion Show
If you're a parent of a young girl, you've probably heard that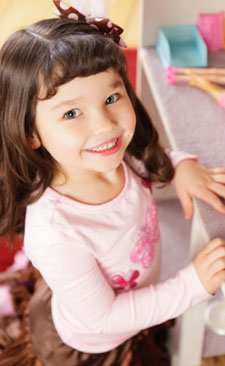 a new American Girl store is set to open in Chesterfield Mall later this spring. At our house, the three-month wait might as well be three years. Instead of moping around, get a head start on all the fun at the O'Fallon Park and Recreation Foundation's upcoming American Girl Fashion Show!
This fun show provides an entertaining and educational look at how generations of American girls have expressed themselves through fashion. This year's theme, "Styles of Yesterday and Today," takes girls through a colorful presentation of classical and contemporary clothing.
More than 80 local girls will be modeling daywear, sleepwear and special occasion clothing similar to what Josefina, Julie, Addy, Kit, Rebecca and other popular dolls may have worn. Other featured fashions include American Girl's line of fun, contemporary, casual wear for older girls and "dress like your doll" outfits from the American Girl Bitty Baby collection. Partygoers will also enjoy a light tea party meal, door prizes, raffle tickets and a whole lot of fun.  
If your favorite America girl wants to try her hand at the catwalk, sign her up to be a guest model during the show. For an additional $25 donation, she and her doll can walk the runway during intermission donning a special fashion show tee-shirt. Work it girrrrl!
The American Girl Fashion Show is being held at 9 a.m., 12:30 and 4 p.m. on Saturday, March 31 at the Regency Conference Center in O'Fallon, Illinois. It's recommended for children ages 6 and up. Proceeds from this event benefit youth scholarships, art programs and youth recreation programs in O'Fallon.Tickets are $30 per person ($20 tax deductible) and can be purchased online or by calling (618) 624-0139 or online.
By Andrea Wilson, Events Blogger for SmartParenting
---