You are here
Let the Good Times Roll During Mardi Gras
Over the next few weeks, don't be alarmed if you spy pink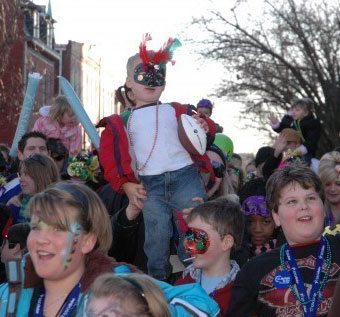 poodles (or middle-aged men) roaming the streets of Soulard in frilly tutus. The apocalypse is not here. But Mardi Gras is! Batten down the hatches and get ready for some family-friendly fun.
• The par-tay fun kicks off at the SSM Cardinal Glennon Family Winter Carnival on Saturday, January 28 in Soulard Market Park. Kids can unleash their imagination by creating masks, crowns and capes, decorating beads or getting their face painted. While little ones get in trouble for drawing on the walls on home, they are encouraged to paint freely on the 4-by-32 foot art wall. Other activities include interactive games, the SSM Cardinal Glennon Safety Corner and live entertainment by the Muny Kids and Bobaloo. At 4 p.m. partygoers can show off their newly created costumes by parading through the winding streets of Soulard during the Children's Parade.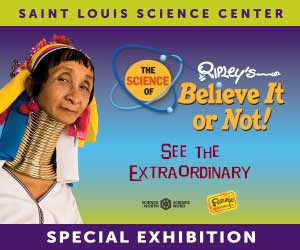 • Every year, thousands of party animals dressed in their Sunday best take over the streets for the annual Beggin' Pet Parade and "Tail"gating Party.  Even if you don't have a pet, bring your family down to one of the area's most unique events. There will also be plenty of other activities to help party patrons get an early start at celebrating Mardi Gras.It's free to watch the parade and only $10 to walk your pet in it. All proceeds will benefit the local animal shelter, Open Door Animal Sanctuary. Registration begins at 10 a.m. at the corner of Menard and Allen in Soulard and the parade steps off at 1 p.m.
• Some of the area's best athletes will be facing off at the PETsMart Weiner Dog Derby after the dog parade. Come cheer on these cute competitors in Banfield Stadium as they go for the gold. The dachshunds race in three divisions based on age — Cocktail Wienies, Ballpark Franks and Hot Dogs. The finals are followed by the trophy presentation ceremony in the Wiener's Circle. Registration begins at 10:00 a.m. at the park and the first heat takes place at 2:00 p.m. in Soulard Market Park. The races are free to watch and $10 to participate.
• Cap off the fun during one of the largest parades in the Midwest, the River City Casino Grand Parade. At 11 a.m. on Saturday, February 18, over 130 parade units will be throwing beads, trinkets and candy to the cheering crowds will as they travel from Busch Stadium to Anheuser-Busch. The krewes of the 33rd parade will highlight "Famous Threesomes," including the Bee Gees, Charlie's Angels, Three Ring Circus, Three Musketeers and many more. The parade is free, but get there early for a good spot.
By Andrea Wilson, Events Blogger for SmartParenting
Photos courtesy of Mardi Gras, Inc.
Tags:
St. Louis family events
,
Things to do with kids in St. Louis
,
Muny Kids
,
Beggin' Pet Parade
,
River City Casino Grand Parade
,
events for kids in St. Louis
,
activities for kids in St. Louis
,
event calendar for St. Louis kids
,
St. Louis Family Fun
,
SSM Cardinal Glennon Family Winter Carnival
,
PETsMart Weiner Dog Derby
,
Bobaloo
,
Open Door Animal Sanctuary
---