You are here
More Than a Million Books to Be Found at the Greater St. Louis Book Fair
Anyone who thinks that the book is in danger of becoming obsolete should take a look at the official policies for the Greater St. Louis Book Fair.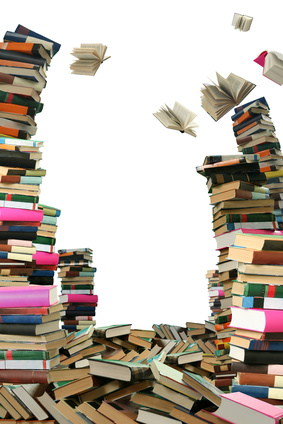 Reading them, you'd think you were attending a sold-out general admission concert for Black Friday fanatics. Seriously. This annual event is so popular its organizers had to give us some guidelines: "Patrons may stay in the parking garage overnight Wednesday provided they remain in their vehicles. No campers are allowed." That people are willing to camp out for books absolutely tickles me.
Each year at the
end of April
, the Greater St. Louis Book Fair volunteers fill a parking garage at West County Mall with a banquet hall's worth of tables, set with an eye-popping spread, row after row brimming with books. It's a regular feast for the soul, and you could spend hours gorging to your bookworm-belly's content. In fact, many people do. "Patrons are limited to one shopping cart at a time."
With the abundance of book donations they receive, there is a little something here for everyone. Almost any genre you can imagine is represented in their
selection
, from ancient history to travel guides to children's books. You name it, it is probably there, along with other media (i.e., records and CDs) and the mysterious and intriguing "ephemera." Items are very affordable, with prices falling mostly in the $1 to $5 range (psst — educators, this is great news for limited budgets). And you can be confident in the quality of books to peruse. "If you wouldn't want to read it in bed, then (they) won't sell it."
Paging through all these books can be an accidental treasure hunt of its own, and you could easily come across a book you have long forgotten about. One year, my young daughter and I found a beloved book from my own childhood,
In the Forest
 by Marie Hall Ets. I hadn't thought of it in years, and it is out of print today, but I am able to share it with my kiddos nonetheless. Finds like this are such a delight to experience.
The book fair always begins in a way that draws in collectors and industry types first. Opening Night comes with a $10 cover and an auction of rare and collectible books (last year's auction
made news
 when a volunteer discovered a signed first edition of Hemingway's A Farewell to Arms while sorting through a donation box, which sold for $6,000). Though I've never gone to Opening Night myself, each year I am sorely tempted to. The rest of the book fair can be enjoyed without admission fees, and the whole event is brought to a close early Monday morning with a special Non-Profit Day, where folks from nonprofit organizations can gobble up what's left, for free (NOTE:
advance registration
 is required).
So what, in the end, does all this pageturning do? Well, it literally puts books back in kids' hands. All proceeds from the book fair sales are donated to local education and literacy programs that exist to help underserved youth.
Nursery Foundation of St. Louis
 has been a recipient of funds since the book fair's inception, and grants are issued to other "innovative" programs, such as 2010 recipients
First Book
 and
Ready Readers
.

This year's Greater St. Louis Book Fair runs from Thursday, April 28, through Sunday, May 1 (not including the Non-Profit Day). Go find some treasures of your own, while doing your part to encourage more booklovers in the world. From one reader to another, those books will keep changing lives.
By Erin Quick, books blogger for SmartParenting
---