By
Amy Burger
|
Mon, 08/07/2017 - 2:41pm
Christmas may be months away, but St. Louis Union Station has an early gift for everyone who loves the holidays. Due to the overwhelming popularity of The Polar Express Train Ride, St. Louis Union Station is bringing back the beloved family event for the 2017 holiday season. 
The magical story of a boy's search for the meaning of Christmas will spring to life when real trains depart St. Louis Union Station for a round-trip journey to the "North Pole." Set to the sounds of the movie soundtrack, families will relive the magic of the story as they sip hot chocolate and nibble cookies while reading along with the classic children's book, The Polar Express, by Chris Van Allsburg.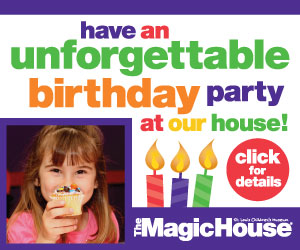 Santa and his helpers will greet passengers at the North Pole and then board the train, where each child is given the first gift of Christmas - a silver sleigh bell. Chefs aboard each car lead passengers in singing Christmas carols on the ride back to St. Louis Union Station.  
The magical journey begins November 24, 2017 with trains running every day except Christmas though December 30.  Trains will depart St. Louis Union Station at 4:30, 6. 7:15 and 8:30 p.m. Tickets, combined with holiday hotel packages at the St. Louis Union Station Hotel, and train ride only tickets are on sale at STLPolarExpressRide.com. Many options sold out last year, so reserve tickets early to get your choice of dates and times.
Passengers can choose from two classes of service on The Polar Express – Coach and First-Class. Coach tickets start at $39. First-Class tickets start at $65 and include a Polar Express mug and seating at four-top tables as well as a photo with Santa. Families are encouraged to wear pajamas for the ride.
"St. Louis Union Station is pleased to bring the Polar Express Train Ride back to the market. We expect the event will attract more than 50,000 guests to experience the magic of the holiday season this year," said Todd Hotaling, Vice President of marketing for LHM, the group that owns Union Station.
In addition to the Polar Express ride, St. Louis Union Station will be running a holiday fire and light show set to Christmas music on the train shed lake and will host a series of magical holiday dinners in the beautiful and historic Grand Hall during the holiday season. 
Featuring a 3-D light show projected on the ceiling and visits with Santa's elves and holiday characters, the dinner sessions are available on selected days when the Polar Express Train Ride is in operation. Separate adult and children's selection buffet style dinners are priced at $25 for adults and $20 for children 12 and under and include an elaborate holiday dessert buffet. Children ages two and under are free. An elaborate holiday dessert buffet accompanies the dinners.
For information about dates, fares, excursion times and dinner reservations, call 314-942-6942, or visit STLPolarExpressRide.com.  St. Louis Union Station is located at 1820 Market Street in downtown St. Louis. Parking is available in the Union Station lot at 18th and Clark for $5 for all Polar Express ticket holders. 
Amy Burger is a mom, freelance writer and communications professional with nearly 20 years experience working in St. Louis. Her work has appeared in numerous publications and media outlets including STL Parent, Missouri Life magazine, the St. Louis Post-Dispatch, Town & Style and kdhx.org, among others. When she's not working, she enjoys spending time with her husband and two beautiful girls at home in Kirkwood.
Comments