You are here
Get Hooked on Fishing This Summer
There's an old saying that a bad day of fishing is better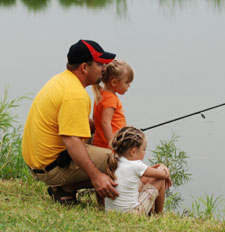 than a good day at work. But if you don't know the difference between a black crappie and brown trout, where do you start?
The fine folks at August A. Busch Memorial Conservation Area will help your family learn to fish with hook, line, sinker, bobber, live worms and bait. You'll get the basics on successfully catching, handling fish and removing hooks for catch and release fishing.
• Learn equipment setup, knots, baiting the hook and fishing safely. All families will be mentored by Naturalists to help you experience successful family fishing outings. A valid fishing license is required for all participants ages 16 through 64. Reservations are required by calling (636) 441-4554.
Get Hooked on Fishing: Basic Fishing Techniques • Thursday, June 7 • 6:30 to 8:30 p.m. • Ages 8 and up • Free • August A. Busch Memorial Conservation Area
For the more adventurous, try learning Bass Fishing Techniques on Saturday, June 9, which is also Free Fishing Weekend across the state. Bass Fishing Techniques is for families with kids ages 8 and up. 9-11 a.m. at August A. Busch Memorial Conservation Area. Call 636-441-4554 to register.
• Nightowls rejoice! Every second Saturday of the month until October, Suson, Simpson and Spanish Lake parks stay open after the sun goes down for some late-night fishing. Bring your poles, baits and lanterns and fish until the wee hours. Call (314) 615-4386 for more information.
Second Saturday Late Night Fishing • 2nd Saturday of the month until October • 6 to 11 p.m. • All ages • Free • Suson Park, Simpson Park and Spanish Lake Park
• If you find yourself on the other side of the river, stop by the Two Rivers Family Fishing Fair. Fair goers can take part in 25 outdoor educational activities including knot tying, fish identification, fish cleaning, casting and seminars on fishing and water safety.Check out the 4,000-gallon aquarium stocked with many of the local fish found in the Illinois River and the popular trout pond. Fishing poles, baits and supplies are provided at this free event. No fishing license is required.
Two Rivers Family Fishing Fair • Saturday, June 9 • 10 a.m. to 4 p.m. • Free • Pere Marquette State Park
By Andrea Wilson, Events Blogger for SmartParenting   
Tags:
St. Louis family events
,
Pere Marquette State Park
,
Suson Park
,
Things to do with kids in St. Louis
,
Simpson Park
,
events for kids in St. Louis
,
activities for kids in St. Louis
,
event calendar for St. Louis kids
,
St. Louis Family Fun
,
Second Saturday Late Night Fishing
,
Two Rivers Family Fishing Fair
,
Spanish Lake Park
,
Youth Fishing Lessons at Suson Park
---