By
Nicole Plegge
|
Thu, 07/27/2017 - 2:25pm
As God as my witness, I'll be more organized this summer, I told myself in May. The kids will clean up after themselves every day without complaint. And I won't buy another pair of goggles until we find the ones we lost, dang it!
Lies, all lies. With summer coming to a wrap, my closets now have a Hoarders vibe, my kids' playroom is the scene of a Twister remake, and our family owns approximately 722 pairs of Target dollar spot goggles that keep showing up in random locations, like inside our deep freezer.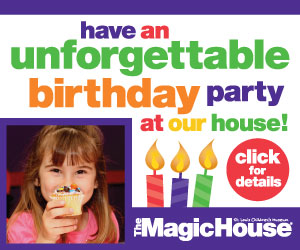 Since summer was a bust, it was time for a personal intervention to prep for the upcoming school year. So I turned to Lizzy Kline, mom of four and owner of Happy Spaces by Lizzy, a professional organization service in St. Louis, for a few quick tips. As a renowned organizer and former social worker, Kline knows the impact a clutter-free home can have on one's psyche, especially during the school year madness.
"We feel so overwhelmed by the clutter in our house, we don't know what's there," she said. "We end up going to the store and buying things we already have, which just adds to the pile. When your life and home are more organized, your mind is able to think clearer. It goes to a simpler place that's not consumed by 'stuff.' You feel lighter and are able to leave the house faster."
Get a head start on school
If you wait until the first day of school to put your organization plan into motion, you're already a step behind. Hit the start button today to be prepared for the chaos coming your way.
Clean out the closets. Parents tend to cram their kids' drawers and closets with clothes from every season. Which means kids are digging and flinging to find their favorite shorts buried at the bottom. Kline recommended storing winter clothes away until kids need them. And also, get rid of those extra socks, especially ones without a significant other.
"If a kid has 8,000 pairs of socks, they're constantly changing them and leaving them around the house. If they only have a few, they know it's all they have until laundry day."
Don't hit up the stores at the last minute. Go back-to-school shopping in your drawers first to see what your kids have. Then keep your eyes open for great deals online or at your local stores. When you can avoid the crowds after August 1 and get free shipping, the head start is worth it.
 
Create a homework center. Kline set up a shelf in her home with lined paper, pens, scissors, and glue just for her kids. When they're buried in homework, they can focus on their assignments instead of stressing out over a lost pencil sharpener or eraser. There's no more digging around in desks or junk drawers for supplies.
Keep gear in reach. Once you're ready to transition from beach towels and goggles to backpacks and gym bags, make sure to keep your kids' school and athletic gear in the same location in the home. For instance, as soon as sports uniforms are washed, put them in your child's bag along with their shoes and equipment. Pack up book bags at night instead of in the morning.
"When everything the child needs for school is always accessible, everyone is calmer. You're not hunting under beds or closets for their shoes and jackets."
Keeping the chaos of chores to a minimum
Once school hits, every minute of a parent's day is consumed by something – whether it's running kids to practice, cooking them dinner, or washing an endless avalanche of clothes. Take a step back and find ways to minimize your work.
Get your pantry in order. Kline noted her summer's been full of pantry organization projects for clients, wading through packed closets and cabinets only to discover expired food hidden in the back. Her recommendation – keep your pantry organized into categories and bring older products toward the front. When you know what you have, it makes meal prep easier. And prevents you from buying things you don't need at the grocery store (like the seven boxes of rice lining my shelves).
 
Put some pep into your prep. Every Sunday, Kline and her crew prep meals and snacks for the week. Her older kids chop up veggies she can use for crockpot and sheet pan dinners for easy fixes while her little ones put together snack bags for lunches and after-school cravings. "My family has about 20 to 30 minutes max to eat at night during the school year. I don't want my cooking and clean up time to interfere with that. Prepping meals makes dinner so much less stressful."
Squeeze in the cleaning. The last thing you want to do on Saturdays is play catch-up for the week, especially when it comes to laundry. Kline suggested waking up a few minutes earlier each day to throw in a load of laundry and reward yourself with a cup of coffee and some quiet time. By the time your kids are ready to go to school, the laundry's in the dryer. By the time they get home, it's ready for them to fold.
 
Bring kids in on the fun. No matter a child's age, they can help keep the house presentable by putting their toys and clothes away. But, said Kline, the parent's job is to provide them a spot dedicated to clean-up – whether that's hooks for their book bags, lockers in the mudroom, or a basket for shoes in the hallway – and set expectations on what they expect from their child.
"Hanging up a book bag is a no-brainer, but even the smallest jobs are so helpful for the family. You'll likely have to keep reminding your kids, but once they get it, your house no longer looks like a dumping ground for shoes and socks."
By the time kids are seven years old, they should have daily chores of their own, from taking out trash to putting laundry away. By having children knock out these little chores, parents can focus on the more time-consuming, heavy-duty cleaning projects.
Best of all, when your home life is more organized, you can find more time in your day to enjoy some well-deserved me-time – which you especially need after three months home with the kids.
As a social worker at heart, Kline knows part of a simpler life means focusing on self-care when they days get overly hectic. "Life can be overwhelming for every parent," she said. "Take a bubble bath, go for a jog, do some yoga. You need to do something for yourself every day to feel like a normal human being."
For even more home organization tips, check out Kline on Instagram at happyspacesbylizzy.
Follow STL Parent on Instagram
Metro East mom Nicole Plegge is the lifestyle and pop culture blogger for STL Parent. Besides working as a freelance writer & public relations specialist, and raising two daughters and a husband, Nicole's greatest achievements are finding her misplaced car keys each day and managing to leave the house in a stain-free shirt. Her biggest regret is never being accepted to the Eastland School for Girls. Follow Nicole on Twitter @STLWriterinIL 
Comments