You are here
Too Much Candy? Share it With Our Troops at the Great Candy Exchange!
Halloween is, technically of course, a holiday for kids. But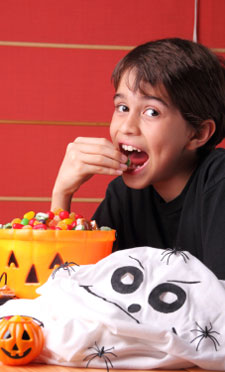 let's be honest, few parents I know pass up the chance to don their own costumes, decorate their house to the hilt, and attend as many Halloween-themed events as they can cram into their usually ghost- and goblin-free lives. Of course, we're doing all of this "for the kids."
The holiday gives us a chance to relive, at least in a small way, the Halloweens of our childhood, and who doesn't love that?
But as with everything else, the "clean up" falls to mom and dad. And with Halloween, "clean up" means figuring out what to do with all of the candy your kids have amassed from nights of trick or treating, trunk or treating, Boo at the Zoo, Halloween Walks all over town, and of course, from your own stash you originally purchased to give away to trick or treaters but keep hidden in that box in your bedroom closet for emergencies of the chocolate variety.
That's where the Great Candy Exchange comes in. It's got everything: A chance for your kids to wear their Halloween costumes again after Halloween, a chance for them to win great prizes, like an Xbox 360 Kinect, meet the Tooth Wizard and Tooth Fairy, see exciting shows, have their face painted, and to donate your leftover candy to a great cause.
Plus, this Nov. 3 event is absolutely free.
All of the candy collected at The Great Candy Exchange is sent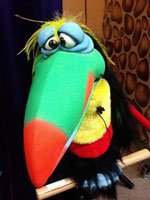 to our troops through A Soldiers Wish List, an organization made up of volunteers who send care packages and supplies to those who are serving our country overseas. For the brave men and women of our military who will miss celebrating Halloween with their own kids this year, it's at least a small taste of home. (Plus, Delta Dental is sending new toothbrushes to the troops along with the candy.)
So mark your calendar for Saturday, Nov. 3 and make it your family's last big Halloween celebration for the year. Because like your neighbor down the street who doesn't take down the Halloween decorations until December, it's hard to get enough of a holiday that involves costumes, candy and feeling like a kid no matter how old you are.
The Great Candy Exchange will be held at the Delta Dental Health Theatre on Saturday, Nov. 3 from 11 a.m. to 2 p.m. Admission is free. Each child who brings in leftover, packaged, candy will be entered into a contest to win an Xbox 360 Kinect.
There will also be prizes for the best costume, face painting, performances by Juggling Jeff, visits from the Tooth Wizard, The Tooth Fairy and PlaqueMan, a balloon artist, Youcan Toucan in person, a free photo booth, and lots more.
Bring in a canned food donation for Operation Food Search and you'll receive an extra chance at winning the Xbox 360 Kinect!
The Delta Dental Health Theatre is located on Laclede's Landing, at 727 North First Street in downtown St. Louis (Click here for a map and directions). Find out more at www.ddhtstl.org
Oh, and I'll be the tall "kid" in the Angry Birds costume. See you there!

By Julia Bollman, publisher of SmartParenting
---
---