You are here
Have A Little Fun Without Spending a Dime
October may be known as the scariest month of the year, but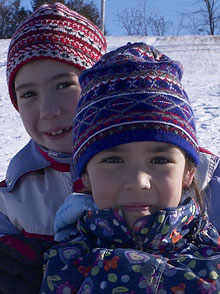 getting your January credit card statement (the one with ALL of those holiday purchases on it) is downright terrifying. But a lack of funds doesn't mean a lack of fun! The St. Louis metro area is full of free family-friendly events. Here are a few you may want to check out:
• Did you know that chess was one of Napoléon Bonaparte's favorite hobbies? Come learn more about this game of strategy and psychology during the Missouri History Museum's Chess Carnival. Activities include demonstrations on chess piece movement, puzzles, blitz chess, blindfold chess and more. The Carnival is taking place on Sunday, Jan. 30, from noon to 3 p.m. at MacDermott Grand Hall in the Missouri History Museum. This free event is recommended for kids 6 and older. For more information visit the Missouri History Museum's website or give them a ring at (314) 746-4599.  
• At the William & Florence Schmidt Art Center in Belleville, kids and their grownups can spend the day learning about the center's current exhibits and creating art for just $1 a person. Creative Kids Art Classes are held every Saturday from 11:30 a.m. to 1:30 p.m. and begin on Feb. 5. This affordable event is best suited for kids ages 5 and up. Classes are open to the public, but you must register at (618) 222-5278 to attend.
• Parents As Teachers Block Fest™ may sound like a street party, it's actually a unique event to help children develop early math, science and literacy skills by playing with blocks. America's future economic success and national security depends on technical careers, but many children are lacking in these areas. During this free festival, kids will have a great time "playing" with blocks of all shapes and sizes and parents will learn how to nurture math and science thinking. A Parents As Teachers Block Fest™  for children ages 8 months to 5 years in the Northwest R-1 district is taking pace on Saturday, Feb. 5, at Brennan Woods Elementary School in High Ridge. To register for either the 10 a.m. or 11 a.m. session, call 636-671-3470 x742.
• While I love the hot scorching summer sun, penguins prefer cold weather. The St. Louis winter is the perfect time to check out these little guys at the Delta Dental Winter Zoo. When temperatures dip below 50 degrees, king and gentoo penguins venture out of their indoor home for a little stroll down the pathway to the entrance of Penguin and Puffin Coast. The penguin walk takes place at 2 p.m. (weather permitting). Other activities include Delta Dental's Land of Smilesperformance at 11:30 a.m. and 3 p.m. and a Radio Disney party at 12:30 p.m. A special Mardi Gras Celebration is taking place on March 6 from 11 a.m. to 4 p.m. in The Living World. Delta Dental Winter Zoo is taking place on Feb. 13, 20, 27 and March 6. Visit the Zoo's website or call them at (314) 646-4771 for the lowdown on all these programs.
• The Missouri Department of Conservation has a ton of free activities for all ages and interests. Learn to identify different animals tracks and signs at Columbia Bottom Conservation Center or get off the beaten path and enjoy a late winter hike at St. Stanislaus Conservation Area. Older kids can help count the birds at August A. Busch Memorial Conservation Area or pick up some tips and tricks on capturing the perfect nature photo at Powder Valley Conservation Nature Center. Visit to MDC's website for a complete listing of free events.
• And remember, you can always find tons of upcoming events across the metro area, many of which are free or inexpensive, in our Things to Do section online.
 By Andrea Wilson, Events Blogger for SmartParenting            
Tags:
all ages
,
Powder Valley Conservation Nature Center
,
Missouri History Museum
,
Parents as Teachers
,
Missouri Department of Conservation
,
Belleville
,
St. Louis family events
,
August A. Busch Memorial Conservation Area
,
The Living World
,
Radio Disney
,
free events
,
family friendly
,
things for kids to do in St. Louis
,
chess carnival
,
St. Stanislaus Conservation Area
,
Delta Dental Winter Zoo
,
Land of Smiles
,
Delta Dental Stage Show
,
king penguins
,
Delta Dental Mardi Gras
,
Brennan Woods Elementary School
,
High Ridge
,
William & Florence Schmidt Art Center
,
Parents As Teachers Block Fest™
,
Napoléon Bonaparte
,
MacDermott Grand Hall
,
Columbia Bottom Conservation Center
,
Penguin and Puffin Coast
,
gentoo penguins
---