You are here
Homework - The Educational Hotzone
There are certain triggers with families and education. Discipline policies, curriculum, teaching methods.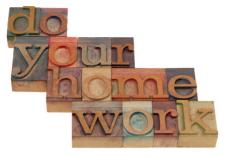 For the most part, if you have a strong feeling towards one of these touchstone topics, you can find a school that best fits your model and live your life in peace. At least, that part of it.
Working for many schools the past few years has enlightened me, however, that there is one common trigger that schools just can't get right: homework.
I've worked for schools with a strict 10-minutes-per-grade-level, no-holds-barred policy, schools that adamantly disdained homework and forbade it, and schools that walked the line somewhere in between. And no matter what the policy, a core group of parents felt unhappy, worried, anxious, scared and unheard.
Ironically, I find myself in the position this year of making a homework policy decision. If you know me, you know I'm all about the research. Well, here's the pickle. Research on homework is almost impossible to correlate because of the number of variables. From Suite 101, by Barbara Pytel:
"While some parents may argue the point that all home work is negative, research does not support that. And, for teachers that maintain that large amounts of homework produce higher academics, this research doesn't support that, either."
Here's what I know from personal experience. As a classroom teacher to students from low-income families, homework had little to no benefit. Parents were unwilling or unable to facilitate modeling of good study habits for the children to mimic, and therefore the work I sent home was completed (or not) in a vacuum. Not to mention they more often than not lacked basic supplies with which to complete the homework. Instilling responsibility? Most of my students were taking care of themselves and younger siblings already, in first and second grade. They had a level of responsibility beyond my mere academic reach.
As a parent, it's a headache. Both my kids, when they came home from school, were wiped. I was wiped. I just wanted to reconnect with them on a personal, positive level, but instead often ended policing them to get some (as I saw it) useless pieces of paper finished. Usually the homework was a worksheet that had content my kids clearly mastered. It was busy-work.
As part of a research team at an affluent county school, we found over a two-year study that homework did nothing to increase a student's grades, responsibility or efficacy. The most interesting thing we found was that the earliest children were able to connect learning to homework was fifth grade. In other words, until then the children viewed homework as just another thing grown-ups forced them to do. Around the age of 10 or 11, students began to have a kind of ah-ha with the reasoning. But even at that point in time, its effectiveness didn't change.
There is solid research out there supporting the fact that beginning in middle school and increasing until college, students with more homework did better in school. At least we can nail that piece down.
I put a brief explanation in the monthly newsletter on homework, with our policy, explanation and my e-mail address for parents to address concerns. I haven't checked it yet today, but would bet a hunk of cash it's packed with comments. I know we can't make everyone happy, but I'd sure like some CliffsNotes on this one. Can we come to some conclusion here? Anyone? Just throw me a bone ...
By Sharon Linde, Education Blogger for SmartParenting
---