You are here
Hop on Some Fun With a Hayride
Hayrides always remind me of brisk fall evening, crackling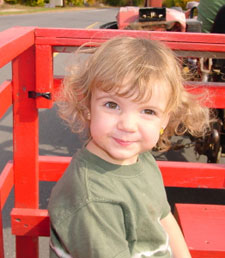 campfires and s'mores. But you don't have to wait until the fall to enjoy a hayride with your family. Several rides (some with hay, some without) are being offered around the area. The best thing about taking a hayride in the spring or summer? No heavy winter coats!
• All of you history buffs will enjoy a long hayride through the first United States military site west of the Mississippi River, Fort Belle Fontaine. Built in 1805 on the south bank of the Missouri River, this stronghold served a starting point for many excursions to the American West. Besides offers sweeping views of the Missouri River, it also overlooks the locations where Lewis and Clark's spend several nights on their famous expedition. The fort served as a military outpost on the edge of the frontier as well as a trading post to Indian tribes of the region. But that's just the tip of the historic iceberg. A guide on your hayride through time will tell you all about this little known area.
History Hayrides at Fort Belle Fontaine are taking places at 10 a.m., 1 p.m. and 3 p.m. on Saturday, June 11 and 12:30 and 2:30 p.m. on Sunday, June 12. The cost is $7 per person.
• Not to be outdone by their northern cousin, Jefferson Barracks is also offering hayrides of their historic park. Jefferson Barracks was established as a military post in 1826 when it was determined that Fort Belle Fontaine was considered to be unhealthy and unsatisfactory as a military post. Few military installations have been as important to the United States as Jefferson Barracks. Until its deactivation in 1946, men from Jefferson Barracks have served in every major war. A guide will tell you about these and other stories that took place at this important post from 1826 through World War II.
The hay will be flying at Jefferson Barracks at 10 a.m., 1 p.m. and 3 p.m. on Saturday, July 16 and 12:30 and 2 pm. On Sunday, July 17. This event is suitable for all ages and the cost $7 per person and children sitting on an adult's lap can ride for free.
To make reservations to History Hayrides at Fort Belle Fontaine or Historic Hayrides at Jefferson Barracks, please visit the St. Louis County government's website or contact them at (314) 544-6224.
• Every Saturday and Sunday afternoon in May visitors can enjoy the beauty and serenity of Shaw Nature Reserve from the comfort of an elevated seat. While narrated rides at the Reserve don't contain any hay, they are a great way to travel the three-mile Trail House Loop Road. With two stops along the way, it's a convenient option to shorten your hike to the river or to the wetlands if you have small children or non-hikers in your group. Get off at either stop and get picked up later or spend the entire time on the wagon.
If your destination is the River, hop off the wagon at the Maritz Trail House. Built in 1942 with native rock, the location is a central point along Shaw Nature Reserve's 14-mile trail system. Make sure you check out the nearby Sod House, a replica pioneer homestead and Crescent Knoll Overlook. The Overlook offers panoramic views of the Meramec River valley, acres of dolomite limestone glade habitat and a diverse population of plants an animals.
The second stop on the Wilderness Wagon Ride is the Gardenway Bus Stop. This is a great place to get some water before hiking to the Wetland Complex. The prairie observation deck, Roberts Cemetery, and the serpentine wall are all located within walking distance of the Bus Stop.
Wilderness Wagon Rides at Shaw Nature Reserve depart the Visitor's Center on the hour at 1, 2 and 3 p.m. The cost is only $1 per person. If you can't make it this month, they are offering wagon rides again in October. For more information, visit the Reserve's website or contact them at (636) 451-3512.
 By Andrea Wilson, Events Blogger for SmartParenting                                                
Tags:
St. Louis family events
,
Shaw Nature Reserve
,
Things to do with kids in St. Louis
,
Fort Belle Fontaine
,
Franklin County
,
events for kids in St. Louis
,
activities for kids in St. Louis
,
event calendar for St. Louis kids
,
St. Louis Family Fun
,
Jefferson Barracks National Park
,
History Hayrides at Fort Belle Fontaine
,
Wilderness Wagon Rides at Shaw Nature Reserve
,
Grey Summit
,
hayrides in St. Louis
,
Gardenway Bus Stop at Shaw Nature Reserve
,
Wetland Complex at Shaw Nature Reserve
,
Sod House at Shaw Nature Reserve
,
Crescent Knoll Overlook at Shaw Nature Reserve
,
Historic Hayrides at Jefferson Barracks
,
St. Louis County Government
,
Maritz Trail House at Shaw Nature Reserve
---