You are here
It All Started with a Pacifer and Some Maple Syrup
Hello. My name is Sharon Linde, and I'm a sugar-a-holic.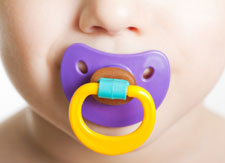 It all began when I was a baby. My mother says I was a fussy child. I disagree with her diagnosis; I just wanted to be held 24/7. What can I say? I mean, if  you really think about it, mobiles aren't that interesting. So one day when she was reading Better Homes and Garden (not while holding me, mind you), she stumbled across an article that suggested dipping your baby's pacifier into maple syrup to soothe them.
Minutes later an addict was born. I can picture my mom, lighting on the idea, excited to get a stretch of quiet time. I can picture my eyes popping as the sweet sugariness registered, sucking the heck out of that thing. In a crazy way, it worked. It stopped the fussing, but what was left in its place was a full blown junkie. As soon as the juice was gone, man, I was itching in all the wrong places for more. And my poor mother, well, she was my dealer, she had the goods, and even though she knew it was a bad choice in the long run, and even though she would have traded my howling for the whining in a heartbeat, it was too late. She, like me, was too far in. We traveled down the road together and, just like that, a sugar fanatic is born.
It's ridden me my entire life. There isn't a sweet thing I don't love, covet and adore. My parents lost sleep worrying I WOULD get into the car with the stranger offering candy. Of course I would have. Unless they had the fake, useless candy that isn't sweet. Smarties, SweetTarts and the like are a wolf in sheep's clothing. Then I would have run like I was told. 
Luckily, lots of healthy things are sweet.  Fruit, for example, is as satisfying (no, not as satisfying, but close) as candy. Only it, like candy, has it's farce group of pretenders. Like berries.
So no, I don't like the red, blue, black, or any other color berry. And so no, when my good friend suggested I go blueberry picking, saying these berries were the best ever and I would fall in love, I wasn't interested. Unfortunately, she said it within earshot of my daughter. And see, somehow it skips generations, because Liv is a berry nut. And so it was, on a clear, still, hot summer day, we trecked out, buckets in hand, to the blueberry patch.
All I can say about this day is....wow. From the easy, idyllic drive out there, to the simplicity of the farm, to the oh my gosh yumness of the berries. Just, wow.
Huckleberry Hollow, http://www.h-hollow.com/, is a family owned, mom and pop (although we just saw pop. I'm not sure if there is a mom) place down 44 near St. Clair. Making the left onto the property made me feel like I was going back in time. The winding road leads you straight to the parking area. From there, you can choose a bucket (or bring your own), and just head out to the patch which is right there. No tractor pulled rides, no waiting, no fuss. Just berries, buckets and you.
Liv and I took a small bucket each and headed out. Although there were several families there, it felt like we had the whole place to ourselves. Just like the book Blueberries for Sal, the berries made a soft plunk sound as we filled our buckets. Because Huckleberry Hollow doesn't use chemicals, there was a good supply of flying creatures, but none of them bothered us. And, just like Patsy said, the berries, right off the vines, were the best things I've tasted in forever. They were warm, and sweet, and juicy, and pure.  
Liv kept saying, "Holy cow mom. This is like eating summer!" I'm pretty sure we ate as  many as we picked, but it was all good. After we made our way down the vines and back Liv headed over to a play structure and to find the resident peacock, and I chatted with the owner, Don Dauster, who was busy watering his summer garden. He told me he'd had the farm for about 17 years and has been doing the pick your own for 15 of them. He's committed to growing all natural food, and only uses his compost for fertilizer. Some days are busy, he said, and some days aren't. Wiping the sweat off my forehead, I asked him how he could stand it, being in the heat all day.  He laughed. "That's why you're picking and not me. I'm over here in the shade. Only took me two years to figure that part out."
Blueberries are only ripe for a few more weeks, but I hear tell the blackberries are at their peak. I don't normally like those either, but Liv and I are headed back down there this week. I'll bet I'll be proven wrong again, and honestly, I don't mind it a bit. Maybe we can start a 'dip the pacifier in berries' trend.
By Sharon Linde, Education Blogger for SmartParenting.
---