You are here
It's Easy Being Green
St. Louis owns the bragging rights to the oldest and largest Earth Day festival in the Midwest. Fill up your reusable water bottle and head on down to Forest Park for a day of green fun. More than 275 eco-artists, food vendors, educational exhibits, businesses and organizations are going to make this year better than ever.
Kick off the day by dressing your little monkeys up as their favorite animals and walking in the All Species Parade at 11:45 a.m. Then head over to Think Outside the Box art area and create a one-of-a-kind container to remind you to reduce, reuse and recycle. The AmerenUE Smart House showcases the latest technology in lighting, appliances and renewable energy. You can also learn ways to increase energy efficiency in your home.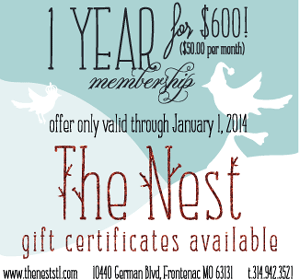 Getting hungry? More than 20 foods vendors will be serving up yummy dishes such as organic lamb, vegetarian jambalaya and mushroom ravioli. No highly processed foods or food containing trans fat or high fructose corn syrup will be allowed. Wash your healthy fare down with some locally brewed suds.
Other highlights of the festival marking the 40th anniversary of Earth Day include:
• Three stages of musical performances, featuring singer Erin Bode
• A special performance by the Shakespeare Festival St. Louis
• The Earth Day Café
• A farmers' market
To make the event more environmentally friendly, fairgoers are encouraged to use alternative transportation to reduce traffic into Forest Park. The Forest Park/DeBaliviere MetroLink station is only a short walk from the festival. Free valet bike parking will also be available.
The 21st Annual St. Louis Earth Day Festival happens on the Muny grounds in Forest Park on Sunday, April 25, from 11 a.m. to 6 p.m.
 By Andrea Wilson, Events Blogger for SmartParenting    
---