You are here
Could a Sticker be the Key to Smarter Snacking?
To get our little ones to eat healthier, parents pull out all the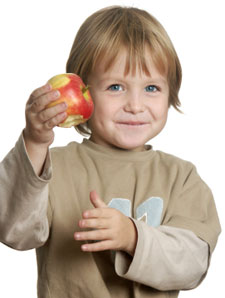 stops in encouraging kids to make better food choices.
Ok, we flat out lie to wean our three-year-old off her fruit snack addiction.
We tell them if they eat fish, they'll swim like Ariel. We cut up tomatoes into Arrietty-sized portions and refute their existence when our toddler finds them under her noodles. We hide spinach in their brownies, gleaned from our experience in hiding other green leafy stuff in our Duncan Hines during college.
But the fact is, we don't have to lie to influence our kids. We can blatantly brainwash them in to making smarter snack decisions – and that manipulation comes in the form of a sticker.
Researchers at the Cornell Center for Behavior Economics in Child Nutrition Program found that accessorizing an apple with an Elmo sticker led to an increase in the number of elementary students who chose the healthy snack.
According to Reuters this week, apples and cookies were offered to 208 students every day for a week, and each child was allowed to choose an apple, a cookie, or both. On the days the snacks weren't marked with stickers, 91 percent of kids took a cookie while less than 25 percent took an apple. However, once Elmo looked back at them from the apples, that 25 percent rose to 37 percent.
In the article, David Just of Cornell who worked on the study remarked, "If we're trying to promote healthier foods, we need to be as smart as the companies that are selling the less-healthy foods.
"The message should be: fight fire with fire."
The findings shouldn't be surprising to parents – children's food choices and marketing go hand in hand. It's why they want yogurt they can suck out of a tube instead of spooning from a cup. Or why the SpongeBob chicken soup from a can tastes so much better to them than the homemade soup I lovingly slave over.
I know we've tried to set a good example at the dinner table for our kids. Do you have any idea how hard it was for me to scrap the Coke at supper in a show of healthy eating unity? However, once my toddler began understanding TV commercials and lunching with kids who hang with Little Debbie, my sacrifice was all for naught. She began turning up her nose at milk, chicken and anything green.
If something as inexpensive and accessible as a sticker can entice my kids to expand their dining repertoire, I have no qualms in creating my own Fresh Beat Band-branded broccoli and Disney Princess brown rice.
In fact, if someone could manufacture a pot roast-sized Octonauts sticker, that would be super.
---

By Nicole Plegge, Lifestyle Blogger for SmartParenting
---