By
Nicole Plegge
|
Mon, 10/26/2015 - 11:22am
When it comes to teaching your kids the game of chess, you could introduce it hunched over a game table for hours, discussing strategy with antsy little ones whose attention spans are short as they are.
Or, you could truly immerse them by taking them inside the game, where they can learn the finer points of competition through make-believe play and plot out their winning moves on a giant chess board.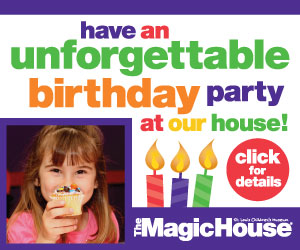 Beginning October 31, the World Chess Hall of Fame (WCHOF) in the Central West End invites families to experience Kings, Queens  & Castles, an interactive, life-size game of chess where kids become queens and parents become pawns.
Developed in conjunction with The Magic House, WCHOF's first children-oriented exhibit will make its debut to a local audience before it travels cross-country to children's museums throughout the U.S. introducing kids to the love of the game and spotlighting  St. Louis as the capital of the chess world.
Building the skills kids need while having fun
Designed especially for children ages three to 11, Kings, Queens & Castles is completely hands-on and entirely interactive, bringing kids directly into the game for a one-of-a-kind learning experience.
"Overall, our goal for Kings, Queens & Castles is to show the breadth of chess and just how fun it can be," said Shannon Bailey, chief curator at WCHOF. "The exhibit is uniquely designed with a variety of activities so that a kid who is a chess player is just as stimulated and excited as the child who's never played a game in his or her life. We want guests to view all the different aspects of the game so they start playing it with their families."
Visitors to WCHOF are invited to walk across a drawbridge into a medieval castle, complete with turret slides, that houses the exhibition. Here, kids can dress up as their favorite chess pieces and accessorize their costumes with a custom crown or shield they design themselves.
In addition, kids can head to the giant chess board where they'll learn the rules and strategies of the game or enjoy a pick-up match with their friends as they sit atop their miniature thrones. You can capture all the fun with your camera phone and then load the photos to an WCHOF app that creates a personalized memory book and connects you to a digital chess game to continue the excitement at home.
As fun as chess is for little ones to play, it's also an effective tool for building critical skills they can use now and in the future – skills WCHOF is excited to help promote.
Explained Bailey, "Chess is really great for fine-tuning children's memories, enhancing their cognitive development and improving their long-term thinking. In fact, studies have found that when kids play chess, their test scores are higher than those who don't. And once they start playing chess, their scores begin to increase as well. There are so many really amazing educational benefits to the game."
Kings, Queens & Castles opens on Saturday, October 31 at WCHOF, located at 4652 Maryland Ave. Admission to the exhibit is $5 and free for WCHOF members and children under five. Families can visit for free on Tuesdays.
Exhibition-related programming includes Family Days every Saturday at 11 a.m. and 1 p.m. and Toddler Tuesdays at 9 a.m. every Tuesday. In addition, the WCHOF store offers a variety of expanded children's merchandise, including dress-up costumes, medieval-themed puzzles and chess sets. For more information, visit worldchesshof.org.
Metro East mom Nicole Plegge is the lifestyle and pop culture blogger for STL Parent. Besides working as a freelance writer & public relations specialist, and raising two daughters and a husband, Nicole's greatest achievements are finding her misplaced car keys each day and managing to leave the house in a stain-free shirt. Her biggest regret is never being accepted to the Eastland School for Girls. Follow Nicole on Twitter @STLWriterinIL 
Comments