You are here
Add Some Laughter to Your Exercise Routine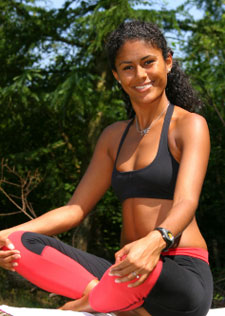 One of my favorite lines from any movie is Paul Rudd's "I wish I liked anything as much as my kids like bubbles" from Knocked Up.
It's so true. Children's hearts are full of unadulterated joy. They'll giggle uncontrollably at the word "poop" (ok, I still do a little) and roll on the floor in hysterics with just a tickle of their toes.
As we morph in to stressed-out, overworked thirtysomethings, that silliness gene disappears along with our hairlines and size six waists. Giggling is out; irony becomes the norm. So it's no wonder many of us are tired and cranky and incredibly envious of the three-year-old with the bubble wand.
However, there's a form of exercise that can let your inner kindergartener run free with your actual kindergartener. Laughter yoga groups are erupting across the metro area, and St. Louis' newest club, led by Emma Klues of Laughter in the Lou, kicks off this week at Tower Grove Park. The group is open to all ages, and best of all, it's 45 minutes of free exercise and therapy.
Behind the laughter
Laughter yoga was started by Dr. Madan Kataria, a physician from India who found that while the body can't tell the difference between fake and genuine laughter, it reaps the same psychological and physical rewards from both. Dr. Kataria incorporated his findings into a series of yogic breathing, stretching and exercises to create a workout built around laughter.
Klues first discovered laughter yoga while visiting Greece in 2008. When she returned to St. Louis, she became involved with clubs led by St. Louis laughter yoga pioneer, Marlene Chertok of Laughter Yoga St. Louis, and Jodi Hart of Laughter Yoga 101. Their work inspired her to join them as a certified leader.
According to Klues, the benefits of laughter yoga are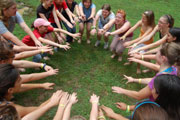 enormous. The exercise boosts your immune system, releases endorphins and clears out the lymphatic system, but most of all, oxygenates your body in a way normal breathing just can't.
"The best, most effective way to get a full exhale is to laugh," she remarked via email. "We laugh to the point that we are gasping for air (sound familiar?), and we have fun doing it. We clear out the stale air from our lungs, take deep breaths to replenish what we lost, and shaboom, our lungs are rejuvenated and fresh oxygen gets to our entire body (and brain)."
Klues also explained that laughter yoga, not surprising, is an incredible stress reliever. While you're in laughter yoga, your mind might still be stuck in work or family mode, but your body is free of the physical side effects associated with stress. Just as exciting – "In terms of a core workout, one minute of belly laughter equals three minutes on a rowing machine," she said. "How's that for getting more of your time?"
A laughter yoga session involves a series of exercises, from stretches to group cheers to pantomime games. After 40 minutes, the leader guides members through meditation encompassing free-form laughter and a guided relaxation of the entire body. Plus, because the movements aren't strenuous or complicated, laughter yoga is one workout the whole family can participate in. In fact, it's not only healthy for a child from a physical standpoint, but can help kids achieve an emotional balance – ideal for calming the temper tantrum monster.
Said Klues, "Laughter can help children cope with stress, bond with others (especially family), and get some exercise. While children are much more open to laughter (they laugh an average of 300 times a day compared to an adult's 15), encouraging them to laugh freely and for no reason will help them continue that practice into adulthood! The relaxation also helps them learn techniques to calm themselves down."
Klues' laughter club runs every Thursday from 8 a.m. to 8:45 a.m. at the playground pavilion in Tower Grove Park starting April 19, and there is no cost to attendees. In addition, you can find laughter clubs throughout the region by visiting Chertok's site at www.laughteryogastlouis.net and Hart's site at www.laughteryoga101.com.
By Nicole Plegge, Lifestyle Blogger for SmartParenting
---