You are here
March for Babies to Change a Child's Path in Life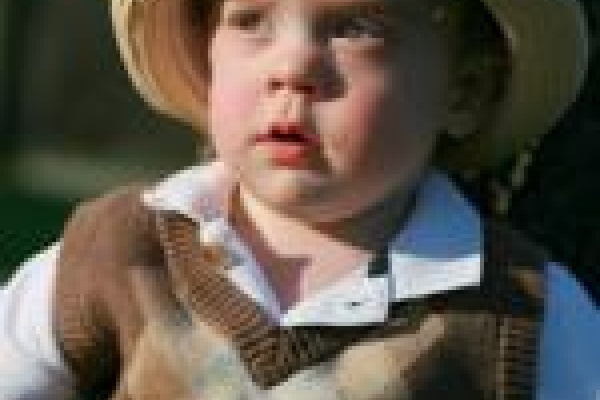 At 15 months old, Robbie of Fairview Heights couldn't crawl or even roll over. Nine months later, this active little boy who was born 14 weeks premature is walking and playing with the rest of his friends.
Those around Robbie are amazed by his development. According to his mother, Trish Cox, "As his physical therapist said, 'This isn't normal.' For once, not being normal was a good thing!"
Thanks to his determination, the perseverance of his parents and the work of his medical team and the March of Dimes, Robbie is showing the world what it means to be a miracle.
When Cox was 26 weeks pregnant, she was diagnosed with a severe case of preeclampsia, a dangerous condition when high blood pressure threatens the lives of both the mother and the child. With no other options, Robbie was delivered by c-section weighing only 1 pound, 7 ounces and spent the next 96 days in the St. John's Mercy Medical Center NICU.
Said Cox, "Life in the NICU isn't just day-at-a-time; sometimes it's an hour- or even minute-at-a-time. There are moments you don't think you'll survive. Your child stops breathing, turning blue, the alarms sound and you, yourself, stop breathing. Or the lab results aren't good, or he just isn't doing well. You don't know if he'll make it, and if you will, either."
But Robbie did make it. And three months later, he arrived home only to face more obstacles in his development due to a hiatal hernia, which pushed his stomach into his esophagus. Because of the hernia, Robbie not only had trouble keeping food down, but suffered intense pain when he tried to eat, leading to frequent hospital stays, surgeries and finally a stomach tube.
Today, through continual therapy twice a week, Robbie is making strides both in his growth and his fine motor skills. "His health has continued to improve," remarked Cox. "Two months ago he finally hit the growth chart for length. Until then he had been so short, the doctors had begun discussing growth hormones to help him achieve a functional height. We just weren't sure he would be able to overcome the deficits he experienced during the months he refused to eat. Fortunately, that doesn't look like it will be necessary."
Cox has chronicled Robbie's journey through her blog, Fertile Hope, which continues to inspire other families of preemies and to promote the work of the March of Dimes.
To her, the March of Dimes means this: "Simply? Life. Without the advances in medicine that have been made possible by the March of Dimes, Robbie would not be with us today. The discovery and manufacture of a soapy substance called Surfactant saved his life. The production of Surfactant exists because of a research grant funded by the March of Dimes. That substance allows too-small, immature lungs to be able to inflate and oxygenate the blood of babies like Robbie.
Without the March of Dimes our lives would be completely different, our arms would be empty. There are not words enough to express my gratitude to them and the doctors and medical professionals who have dedicated their lives to saving babies like Robbie."
You can help other children like Robbie by joining Cox and the thousands of others walking in the March of Dimes' March for Babies on April 24 at any of the following locations in the St. Louis region:
Forest Park, Lower Muny parking lot
Registration: 6:30 a.m.
Start Time: 9 a.m.
Washington City Park, Washington, Mo.
Registration: 7 a.m.
Start Time: 8 a.m.
Belleville Memorial Hospital, Belleville
Registration: 8 a.m.
Start Time: 9 a.m.
Lincoln Middle School, Edwardsville
Registration: 8 a.m.
Start Time: 9 a.m.
Visit March for Babies and learn how you make a difference in the lives of the 500,000 babies born too early each year and the families who love them.
By Nicole Plegge, Lifestyle Blogger for SmartParenting
Photo courtesy of Leanne Brown
---