You are here
A-Mazing Fun at the Great Godfrey Maze
Thanks to a bout of the plague, jury duty and a pile of growing laundry,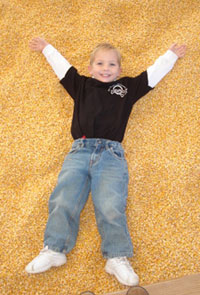 I haven't been able to take advantage of October's picture-perfect weather. So this weekend I let the dirty clothes reproduce in privacy and headed off to find some fun at The Great Godfrey Maze.
Cut into two trails of a classic car shape and the iconic Route 66 road sign, the maze contains over two miles of twisting turns, dead-ends and traps to confuse and amuse the entire family. As you enter the maze, you are given a sheet of questions to help you maneuver through the passages. Answer correctly at each of the ten marked posts and you'll be on the right path. Answer incorrectly and you'll be sent in the wrong direction. But you'll also get a red flag on a long pole (think of the kind on the back of a bike) that you can wave in distress if you are hopelessly lost among the corn.
The really adventurous are invited to visit the maze when the sun goes down on Friday and Saturday nights. Each visitor is required to have a flashlight to help navigate the zigs and the zags of the maze. If you forget your flashlight, they will be available for purchase for $3 each.
While the maze of maize is the primary attraction, there are plenty of other fun things to do at the park. One of our favorite activities was the zipline. For only $3, visitors three feet and taller can take a ride on a slower moving, not so-scary zipline. Kids can also hop aboard the "cow train," enjoy a tractor ride, shoot at targets with the corn cannon or play in the "Corn Crib," an oversized sandbox filled with thousands of kernels. After your adventure, grab a reasonably-priced snack at the concession stand and relax at a picnic table. Restrooms are also located on premise.
Nestled between soccer fields and picnic tables in Glazebrook Park, The Great Godfrey Maze is open from 6 to 10 p.m. on Fridays, 10 a.m. to 10 p.m. on Saturdays and 1 p.m. to dusk on Sundays until October 28. The cost for the Maze is $6 for adults, $4 for kids 6 to 11 and free for youngsters 5 and under. The zipline, cow train and wagon are an additional charge. A combination package, including unlimited maze access and one ticket each to the zipline, corn cannon, cow train and hay wagon, can be purchased for $11 for adults and $9 for children ages 6 to 11. For more information on this event, please visit The Great Godfrey Maze's website, call the Godfrey Parks and Recreation Department at (618) 466-1483 or Alton's Convention and Visitors Bureau toll free at 800-ALTON-IL.
By Andrea Wilson, Events Blogger for SmartParenting      
---