You are here
Learn About the Area's Fine Feathered Friends at the Missouri Botanical Garden's Backyard Bird Festival
Thanks to a World Series victory, the bright red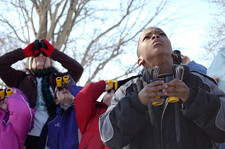 Cardinalis cardinalis are hands-down St. Louis' favorite bird. But Eastern Missouri is home to many other fine-feathered friends.
Join bird watchers of all ages and experience levels at the seventh annual Backyard Bird Festival at the Missouri Botanical Garden. Bundle up, grab a pair of binoculars and enjoy a day of guided bird walks, live animal exhibits, identification tips and hands-on activities.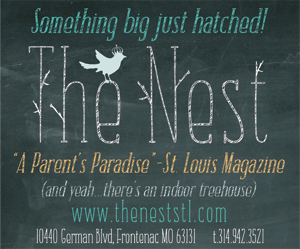 The Garden's many trees and shrubs are a popular retreat for area wildlife, and winter's bare tree branches make for ideal settings to spot red-bellied woodpeckers, white-breasted nuthatchs, Carolina wrens, European starlings, mourning doves or northern flickers.
At 9, 10 and 11 a.m., take an expert-led guided bird walk through the Garden to look for these species and the elusive great horned owl, golden-crowned kinglet or cooper's hawk.
After your walk, warm up inside the Ridgway Visitor Center where exhibitors from several local organizations — including EarthWays Center, Gateway Children's Nature Network, Missouri Department of Conservation, Missouri Nature and Environmental Photographers, Shaw Nature Reserve and St. Louis Audubon Society — will be on hand to share their knowledge and birding tips.
Stop by the Bubbles Environmental Education organization "Beaks in Action" station to discover the diversity of bird beaks and adaptations by using everyday items. Join representatives from the Missouri River Bird Observatory to see a bird-banding demonstration or enjoy an indoor appearance by several live native Missouri birds from the World Bird Sanctuary. Children can visit "The Nest," a special area staffed by Garden educators that features kid-friendly bird activities, puppets and books. For a $1 donation, boys and girls can also spin the prize wheel for a chance to win child-sized binoculars and other prizes.
The Backyard Bird Festival is taking place on Saturday, February 4 from 9 a.m. to 3 p.m. at the Missouri Botanical Garden. This event is included with Garden admission of $8 for adults and free for children ages 12 and under. St. Louis City and County residents enjoy discounted admission of $4 and free admission on Saturday before noon. Missouri Botanical Garden members are free. Guided bird walks are an additional fee.
By Andrea Wilson, Events Blogger for SmartParenting
Photos courtesy of the Missouri Botanical Garden.
Tags:
Missouri Department of Conservation
,
St. Louis family events
,
World Bird Sanctuary
,
Shaw Nature Reserve
,
Earthways Center
,
Things to do with kids in St. Louis
,
Missouri Nature and Environmental Photographers
,
St. Louis Audubon Society
,
events for kids in St. Louis
,
activities for kids in St. Louis
,
event calendar for St. Louis kids
,
St. Louis Family Fun
,
Backyard Bird Festival at the Missouri Botanical Garden
,
Arundale Products
,
Gateway Children's Nature Network
,
Missouri River Bird Observatory
,
Bubbles Environmental Education
---