You are here
It's Mother's Day in June at Purina Farms
In no particular order, food, shopping and fun are three of my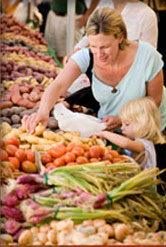 favorite things. If you feel the same way, head out to the Moms' Market at Purina Farms on June 21.
Grab your two and four-legged kids for a fabulous day of sampling and purchasing fresh produce and homemade items from Washington, Missouri Farmer's Market vendors. While you're there, browse handmade gifts, kids apparel, pet accessories, toys, jewelry and beauty products from local women-owned businesses.
Don't miss the beautiful plants, delicious olive oil and Scrumptious Food's special product line. When the kids get bored of shopping, have them burn off some energy on the bounce house and inflatable slide in the special play area.
After the family works up an appetite, hit the concession stand for a lunch under a covered picnic area.
The Moms' Market is taking place on the Main Show Field at Purina Farms from 11 a.m. to 3 p.m. on Thursday, June 21 and Thursday, September 13. Admission is free and open to the public. Call (314) 982-3232 for reservations.
By Andrea Wilson, Events Blogger for SmartParenting 
Photo courtesy of Purina Farms
---