You are here
Most important: Giving Kudos to my Kids
I've wanted to write for a blog on a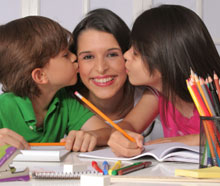 magazine's website for a while. But when I was finally offered one – on education for SmartParenting – it was hard to know what to write about.
I have a son in seventh grade. I could write about his recent – or even not so recent – adventures in schooling. I have an almost-5-year-old daughter. She'll start kindergarten this fall. I could write a column about preparing her for the upcoming school year.
But finally, while doing an online search for education news, I came across a news release that feels like the right topic to write about for my first blog post.
It's from the United States Postal Service and encourages parents to write a letter to their children, to encourage them to do well in school. In the release, Postmaster Nancy Fryrear writes, "What better way to contribute to a positive and productive school experience for a child than to express encouragement in a letter."
At least once every other day my son wonders if there's any mail for him. Although the excitement of getting mail is gone for me – these days mostly I get bills and junk mail – I do remember the excitement of getting a letter in the mail when I was a kid. So I know he would appreciate an encouraging letter.
So I'm going to write a letter to my son about how proud I am that he's doing well in school, and to encourage him to continue doing his best. And while I'm at it, I'm going to write one to my daughter too, to tell her I know she'll love kindergarten and be well-prepared when she begins seven months from now.
I know this won't make me a "tiger mom," like the ones I've read about in the news lately, and it won't grab any headlines. Instead, it will make me a caring and thoughtful mom.
According to the Postal Service, "Your encouragement and the fact that you took the time to write a personal letter to the child will have a lasting impact on their educational experience."
When I see the looks on the faces of my son and daughter as they read the letters of encouragement and kudos from me, I will know it's the most important thing I could ever write.  
By Gina Parsons, education writer for SmartParenting
---