You are here
New Dimensions Soccer Provides Kicking Fun
When I was a kid, I was, shall we say, sports challenged.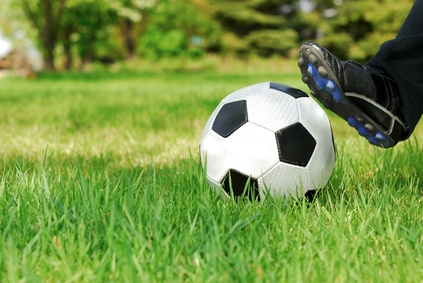 You name the sport, I was bad at it. Soccer was about the only one I felt remotely confident playing. It's a straightforward game — get the ball into the opponent's goal. And it didn't require the ability to keep the ball in the air or get it through a hoop.
Perhaps that's why soccer is considered the world's sport. People around the globe love to play soccer.
Seven years ago, soccer enthusiasts Tom Michler, Tim Tettambel, and Tom McCarthy started New Dimensions, a non-profit organization to help kids play. Many of the kids who participate are refugees from other countries, but everyone is welcome. The organization is 100 percent volunteer and participation is free or low-cost.
"We want to give kids a chance to play," said Michler, president of New Dimensions Soccer. Michler said that many of the children learn about New Dimensions through the Center for Survivors of Torture and War Trauma and other organizations that help immigrants.
Most of the New Dimensions team members have played soccer in their native countries. But when they come to the United States, they often don't have the resources to play on an organized team.
In this area there are many select soccer teams, which can be expensive. Plus, the child has to play well. "You have 8- and 9-year-olds on select teams. There's more pressure early on to win," Michler said. "By the time they're adolescents, they're not enjoying it."
For New Dimensions games, there is no pressure. They don't keep league standings. "What we're trying to stress is that we want it to be fun," Michler said.
The games often only have four players per team — not necessarily a bad thing. "When there are only four on a team, they get to touch the ball more. They get more practice. More chances to score goals," Michler said.
The organization began with four teams. By the next year there were 30 teams. Now there are 100 teams playing during the summer. During the winter, about 50 or so kids play. Throughout the year, New Dimensions teams include 700 to 900 kids.
In 2008, New Dimensions signed an agreement with the St. Louis Public Schools to lease a field near Highway 44 and Jefferson Avenue. New Dimensions also partners with the Boy Scouts of America, the Salvation Army and the St. Louis United Football Club.
Playing on a New Dimensions team offers many benefits, including helping immigrant kids assimilate to their new country by playing a sport they are already familiar with.
Playing with New Dimensions also has helped change students' lives. One child who had been in a war camp in another country now attends DeSmet High School on a scholarship after being seen by a soccer coach, Michler said. "That's one of the things we're seeing, colleges are getting interested, high schools are getting interested," Michler said.   
The organization hopes to work with more after-school programs in the future, to give the students something constructive to work on, Michler said.   
For more information about the program, call Michler at 314-239-4484.
By Gina Parsons, Education Blogger for SmartParenting
---