You are here
No Bullying Allowed during Metro Theater Company's production of Tomato Plant Girl
Recently, Facebook suggested a few people I may want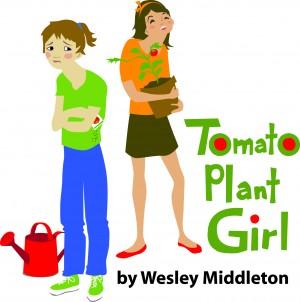 to befriend. One of their picks was my grade school bully. I didn't befriend her, but I immediately checked out her open profile to see if all those years of teenage tanning have caught up with her. While's she doesn't look like a prune, she is married with two kids and a Labrador. But the best part is she's a fourth grade teacher. Roll in the irony. In fourth grade she was tormenting me so much, I ended up in the principal's office because I refused to go to school. Back in the 70's, bullying wasn't discussed. You just sucked it up. But that's all changed, partially because of stories like Metro Theater Company's production of Tomato Plant Girl.
Here's the lowdown:
a newcomer, Little Girl, is befriended by a bossy, beguiling best friend who teaches Little Girl how to fit in her new environment. Their ritual games are fun, but it's clear that Little Girl has no voice in the rules of engagement. Gardening is where Little Girl excels. When Bossy Best Friend discovers that her tomato plant has died, she persuades Little Girl to reluctantly give up her own, thriving plant. But Little Girl has a change of heart and attempts to save her plant, even though she knows her friend will be upset. As she pulls up the tender shoots, she uproots a messy girl creature who eats dirt, drinks rain and has no idea what it means to fit in. All the rules change with this extraordinary event.
According to Metro Theater Company artistic director Carol North, "Tomato Plant Girl is great fun, yet it provides wonderful food for thought in its imaginative approach to the issues of bullying and manipulative relationships."
You are invited to stay after the play for a free interactive family fun event. Plant your own seed, send a note to your "Bossy Best Friend," mix up a tasty "dirt" snack and more.
Founded in 1973, Metro Theater Company tours its productions to schools and community sites throughout the St. Louis region, presents public performances for family audiences and offers a range of education programs. Inspired by the intelligence and emotional wisdom of young people, Metro Theater Company creates professional theater, fosters inclusive community, and nurtures meaningful learning through the arts. The Company has performed for two million people and toured nationally and internationally.
Suitable for theatergoers ages 4 and up, Tomato Plant Girl is taking place at 3 p.m. on Saturday, November 19 and Sunday, November 20 at Clayton High School's Mainstage Auditorium. Order your tickets today at brownpapertickets.com for only $10 a pop.
By Andrea Wilson, Events Blogger for SmartParenting
---