You are here
Make Your Child (And Yourself!) One Happy Camper this Summer
Even though it's only February, it's already time to start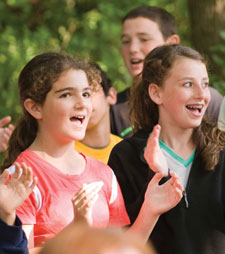 planning your children's summer camp schedule. But unless you want to send your kid to Camp North Star with Bill Murray leading the helm, a few weeks of fun at sleep-away camp doesn't come cheap.
Thanks to the Jewish Federation of St. Louis and the Foundation for Jewish Camp's One Happy Camper program, your child can have an amazing summer without breaking the bank. Now in it's second year, this program provides up to 100 qualifying St. Louis Jewish youth in grades 1 through 12 with a $1,000 grant to use toward overnight Jewish summer camp, regardless of financial status.
Whether your little darling is looking for a traditional camping experience, is yearning to fine-tune his athletic abilities at an intensive state-of-the-art sports training facility or wants to fill her summer with white water rafting, mountain climbing and other extreme sports, there's a camp for that.
In fact, campers eligible to participate in this unique grant can choose from more than 150 nonprofit Jewish overnight camps. Besides providing youngsters with a lifetime of memories, these camps strengthen Jewish identify, help kids make lasting connections and reinforce Jewish values.
 "The program, supported by Jewish Federation, opens the doors for Jewish youth to experience the magic of Jewish camp. Research has shown that children who attend Jewish overnight camp are more likely to become engaged in Judaism throughout the life cycle," explained Eli Temkin, One Happy Camper St. Louis project manager.
"In 2011, more than 50 St. Louis children attended Jewish overnight camp for the first time with the help of a One Happy Camper grant. With 100 grants available this year, we hope to help send even more children to Jewish overnight camps."
To qualify for a One Happy Camper grant, kids must attend a nonprofit Jewish overnight camp for the first time for a minimum of 19 days. Children or teens currently enrolled in a Jewish day school or Jewish immersion program are not eligible.
By Andrea Wilson, Events Blogger for SmartParenting
Photo courtesy of the Jewish Federation of St. Louis

---