You are here
Time to Get Your Worry On
Liz, a mother of two, is nervous. Her palms are sweaty,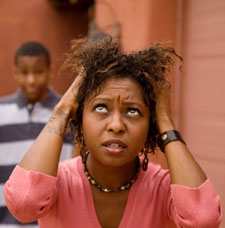 her pulse is racing, and a million thoughts fill her head as she clicks her mouse.
Yep – Liz is hanging out with Dr. Google again.
Last week, many of us were introduced to our new parasitic friend, the brain tapeworm, or neurocysticercocsis, which can wreak havoc on one's nervous system. Neurocysticercocsis affects about 2,000 Americans each year, and naturally Liz is worried her kids are going to be two of them.
"They show no signs of course and I haven't caught them sneaking raw meat out of the fridge or anything, but I started panicking. Then I started reading up on tapeworms, and then I started panicking some more."
Your worry list expands ten-fold once you become a parent. The moment you bring your baby home from the hospital, the world decides to go all Debbie Downer on you. The parenting expert on TV tells you your kid's TV watching will cause him to morph into a zombie. A Time headline hints if you don't breastfeed and co-sleep, your daughter – and probably your son – will end up on a stripper pole.
If having you question your parenting skills isn't enough, the media then decides to release the Kraken. You turn on Brian Williams or open up Facebook and soon realize – why I am worrying about which formula to use when there are colonies of flesh-eating bacteria running rampant!?!
For someone who already has issues with anxiety, dealing with the 24/7 media cycle when you become a parent can be truly overwhelming. Not only do you have yourself to worry about – now there's an entire household of people subject to bear attacks.
"The media is in the business to find stories and to make people want to hear these stories," said Rosemary Lange, LCPC, a therapist with Radzom Counseling LLC in Edwardsville. "It's in their best interest to present the story in such a way that people want to listen and learn more about the story. The focus is then to sensationalize the story so that people want 'to hear more.' The more we hear, the more we worry. It's human nature. Each person needs to assess his/her ability to view information realistically and assess when 'enough is enough.'"
It's no surprise we get caught up in the frenzy. According to the Anxiety and Depression Association of America, 6.6 million adults have generalized anxiety disorder. Furthermore, children of parents with anxiety are seven times more likely to develop it themselves.
This may be why I convinced myself I had a brain-eating amoeba after using a neti pot in December. And this may be why I looked around in confusion when the rest of the diners at Bread Co. hadn't whipped themselves up in a panic and hauled their kids home mid-meal after a thunderstorm warning came through on Twitter.
However, according to Lange, when the constant barrage of bad news and health warnings start infecting your psyche, it's time to step back and take a break. Said Lange:
"Limit exposure to news stories. Pick up the headlines and 'what's going on,' but stay away from the media shows where broadcasters sit and discuss issues for hours and present their opinions.
Get busy with your life and the things that need to be done and that you enjoy.
Focus on the positives in your life. Reframe negative thoughts as they multiply and increase anxiety. Turn off the 'worry machine.'"
If you have employed these tactics and still feel an overwhelming sense of dread, panic or sadness, it may be time to talk with someone to identify any underlying issues.
"Some anxiety and worrying is normal," Lange remarked. "It becomes a problem when it becomes excessive and interferes with a person's general functioning and activities of daily living. If you have difficulty sleeping or eating or you're avoiding people or places because of anxiety then it's time to seek some professional assistance. Sometimes worrying is learned behavior (from our parents) or it could be an indication of an emotional issue or a need for medication to assist with symptom management. A professional therapist will help make that determination."
At the end of the day, our family's health and well-being is our number one priority. We have to be informed and cautious and proactive, but we can't live our lives in a constant state of terror. It's not healthy for us as parents and definitely not healthy for the children we'll someday release to the world.
But I'll still carry a can of repellent to fend off bears at the splash pad.
By Nicole Plegge, Lifestyle Blogger for SmartParenting
---