You are here
The P.E.A.K. of Performance
I started school shopping this week. Running from store to store is so inconvenient.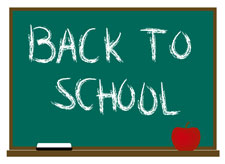 Don't you wish everything you needed was in one location? If you live in the Kirkwood School District, you're in luck. On August 7 the Partnership for Education Achievement in Kirkwood (P.E.A.K.) is holding its first annual Education Fair. You'll be able to get information on career and school course counseling, health care and extracurricular activities all in one place.
While you're there, get your kid's sports physical, eye exam and scoliosis screening marked off your to-do list. They're all free.
Sign-ups for volunteer activities, Red Cross babysitting, CPR classes, other enrichment activities will be available. You can even get information on banking for teens and driver's information. There will even be folks there to talk to you and your kids about career choices. P.E.A.K., a Missouri Nonprofit Corporation, was formed to encourage the community to support the education of students who live or attend school within the Kirkwood School District Boundaries. By partnering with community resources, P.E.A.K. is dedicated to providing children with the best learning environment possible through health, social and educational resources available in our area.
The 2010 Education Fair is open to all students entering middle and high school who live or attend school within the Kirkwood School District boundaries. That includes those enrolled in private schools and homeschool. It's taking place on Saturday, August 7 from noon to 4 p.m. on the Campus of St. Louis Community College at Meramec. Go upstairs to the Student Center building when you get there. For more information, visit P.E.A.K.'s website.
By Andrea Wilson, Events Blogger for SmartParenting
---