You are here
Celebrate Spring With A Special Day at Purina Farms Springtime Village
This year you won't find Peter Cottontail hopping down the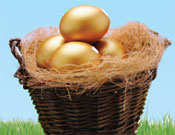 bunny trail. Instead he'll be kicking it at Purina Farms' Springtime Village.
Normally, visitors will find dashing Dalmatians, trotting Terriers and galloping Golden Retrievers strutting their stuff during a dog show at the Farm's world-class indoor event center. But during their Springtime Village, Purina Farms will be transformed into an animal lover's paradise.
During this annual spring fling, your family can take a wagon ride around the grounds, enjoy exciting canine sports performances and get your picture taken with Peter Cottontail.
Bring home a new forever friend during the Farm's puppy adoptions. Besides April showers and May flowers, spring also brings a special delivery of baby pigs, chicks and rabbits to the petting arena.
At the two-story barn and hayloft play area, visitors can milk a cow, crawl through a maze of tunnels, play with toy tractors in corn troughs and meet the farm's horses, cows, chickens and sheep.
Weekends at the Springtime Village are not only fun, they can also be quite profitable. During the Golden Egg Grab, children 12 and under can choose an egg from the wagon in the Visitor's Center Lobby. One golden egg is worth a cool Benjamin! Visitors can also pick a flower from the Purina Farms garden and win a prize.
Springtime Village 2012 is open Wednesday through Friday and on the weekends from March 21 to April 7. Admission is free, but reservations are required. Call (314) 982-3232 or 1-888-688-PETS (7387) to save your spot.
Photo courtesy of Purina Farms.
By Andrea Wilson, Events Blogger for SmartParenting
---