You are here
A Relaxing Idea
Even if you are living under a rock, you probably know that health care reform is a hot topic. I'm not trying to start a political debate here, but I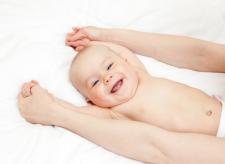 need to throw in my two cents' worth on the subject: weekly massages for every American. The country would be so much more relaxed, healthy and happy if we had the kinks worked out every week. And we would be less cranky and more productive.
But massage's benefits aren't reserved for adults. Children can reap its rewards, too. Besides being a great bonding experience, massage can help babies relax, sleep better and cry less.
It also improves digestion and elimination and helps infants develop their social, motor and neurological skills. And when baby is happy, everyone is happy.
Learn how to relax your bundle of joy by attending one of St. Charles School District's Adult and Community Education infant massage programs. The instructor will demonstrate different massage techniques on a doll as you try them on your baby. While this class is designed for 2- to 12-month-old infants, the strokes can be adapted for older children too. It's also a great class for expectant parents. All work is done on the floor, so bring a blanket. Participants will receive an instructional booklet and a bottle of pure grapeseed oil.
The cost of a three-week program is $85. Classes take place at the Lewis and Clark Career Center starting on Saturday, Sept. 18 from 10 to 11:30 a.m.; Tuesday, Sept. 28 from 10 to 11:30 a.m.; and Wednesday, Oct. 13, from 6:30 to 8 p.m. Please click here for all the details or to register for a class.
If you don't live in St. Charles, no problem. St. Louis Children's Hospital is also offering infant massage classes for babies up to 15 months old at the St. Louis City and West County locations. Classes are taught by a St. Louis Children's Hospital Certified Infant Massage Instructor. Expectant parents can practice the techniques on a doll. Each family will take home a bottle of massage oil as well as the illustrated guidebook Baby's First touch: Step-by-Step Instruction for Infant Massage.
Classes are happening on Saturday, Oct. 2, 
from 10 a.m. to noon at St. Louis Children's Hospital or on Saturday, Oct. 16, 
at 10 a.m. to noon at Progress West HealthCare Center. The cost is $20 per parent/child. The second parent attends at no charge. To register or for more information, please visit St. Louis Children's Hospital website or call 314-454-KIDS or 800-678-KIDS.
If your schedule doesn't match up with any of those classes, a third option is to line up one-on-one instruction with a local trainer. You can find one near you at the Infant Massage USA homepage.
By Andrea Light Wilson, Events Blogger for SmartParenting
---