You are here
Sorry, Kids, That Book is Banned!
Censorship is a dirty word in this country, even to those who practice it
–
which, if you think about it, is just about everyone who is a parent.
While Harry Potter is not banned at our house, I have told our 6-year-old that she will have to wait until she is a little older before reading The Goblet of Fire and the three books that follow (never mind the movies, which we see after reading the books). And some books (Barbie's Cinderella, l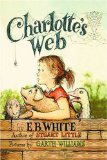 et's say, or Disney's Winnie the Pooh) do not live on our bookshelves – though Yo Gabba Gabba is welcome. Does this make me a hypocrite? Perhaps. Though I am adamantly opposed to censorship on principle, I struggle with how far to stretch that freedom for my own children. I want them to read everything... that is not too commercial... and when they are ready, of course.
This week at our house we are celebrating Banned Books Week. The American Library Association and others have annually dedicated the last week of September to "celebrate the freedom to read and the importance of the First Amendment." And though I joke about some of the hypocrisies inherent in parenting, the reasons for this week are no joke.
The point is to draw attention to the dangers of censorship as they apply to a free-speech society and its institutions, particularly public libraries (the very institutions meant to provide access to information for all citizens). While schools and school libraries are among the most targeted for censorship these days (thanks to, eh-hem, us parents), there is a long and troubling history of book banning and book burning in this country that has been harmful and oppressive to all citizens.
Of course, there is a difference between censorship and parenting. We want our kids to be able to think for themselves, and it is always a changing
process to help support that appropriately while also teaching values and keeping in mind impressionable ages. Like everything else when it comes to parenting, the important thing is to be involved. Be there, as a reading and listening partner. Go to the library with your kids and take an interest in what they want to know about and how they feel about what they are reading. If you are there for your kids' questions and their thoughts, they will begin to safely make sense of things, supported by your love and guidance. If you feel they aren't ready for a particular book, by all means, say, "Nope, not yet." And celebrate Banned Books Week by reading a banned book – let your kids know that you value not only reading, but the right of everyone to have access to books.
Here is a short list of some (perhaps surprising) "challenged" titles for your family to enjoy.
By Erin Quick, Books Blogger for SmartParenting
---