You are here
Lace Up Your Sneakers for a Springtime Run
Have you noticed all the neon fashion hitting the store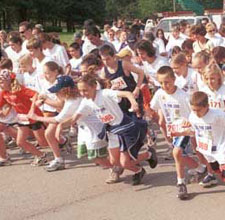 shelves this spring? From day glow yellow purses at Target to shocking pink nail polish, the colors are so bright, you've got to wear shades. Whether we like it or not, the 80's are back. Again. The decade of excess is also alive and kicking during Benton Park's totally awesome '80s 5K and Kids Fun Run. Grab your two and four-legged kids for this kitschy, energetic family fun run through the historic Benton Park neighborhood.
Kids 11 and younger can run a special 400 meter loop designed just for them. Celebrate your victory with 80's music, snacks and beverages. Don't forget to crimp your hair and dig out your acid-washed denim jacket — there's a costume contest for both individuals and groups.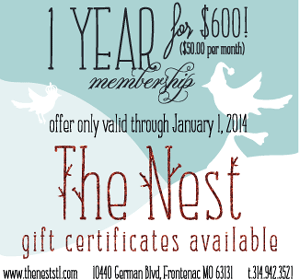 May 19 • Race begins at 9 a.m. • $25 through May 16 and $30 after; Kids Fun Run is $10 • Benton Park
• The animals aren't the only creatures running wild at the St. Louis Zoo this spring. During the St. Louis Children's Hospital Make Tracks for the Zoo event, runners and walkers of all ages can participate in a 5K run/walk or a 1-mile race through Forest Park. Kids can burn off some energy in a 1,½ or ¼ mile Kids Run. On race day, each runner can fuel up with a complimentary breakfast and will be entered in an attendance prize drawing.
St. Louis Children's Hospital Make Tracks for the Zoo • May 20 • Race begins at 7:30 a.m. • Prices range from $10 to $22 • St. Louis Zoo
• For over 60 years, the women of Delta Gamma sorority have been providing educational services for young children and their parents. Their core service consists of home-based educational services for blind or visually impaired infants and toddlers and their caregivers. The scope of services has expanded to include occupational, physical and speech therapy services. Help support this great organization and enjoy the beautiful weather during the Delta Gamma Center for Children with Visual Impairments 20th Annual Run for Sight. Events include a 5K, 2-mile Fun Walk and Kids Run. Start training because the best male and female winner of the run gets $100. Funds raised during this event supports home visits by teachers and therapists, specialized support groups and a recreational program for school age children.
20th Annual Run for Sight • May 6 • 7 a.m. • $20 for adults, $10 kids 12 and under • St. Louis Union Station
By Andrea Wilson, Events Blogger for SmartParenting  
Photo courtesy Saint Louis Zoo

---