You are here
St. Louis Mom Makes Etiquette Cool for Kids
For three years, we rarely went out to dinner considering our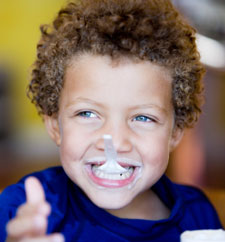 toddler considered Steak 'N Shake her own personal dinner theater of which she was the star, much to the irritation of a captive audience who just wanted to eat their chili mac in peace.
While my husband and I were – and still are – big on table manners, it's hard to teach a three-year-old which fork is the salad fork and which is the dinner fork when she's using both as nunchucks.
Now that both of my daughters are older, it's not enough that they've stopped acting like heathens at IHOP – we want them to behave like refined little ladies, worthy of dining on the Rooty Tooty Fresh 'N Fruity. Thankfully, for kids like mine, a new Table Manners 101 class may just inspire them to act more Downtown Abbey, less Animal House.
Confidence through etiquette
As a social work instructor at Fontbonne University, Laura Beaver became a trained etiquette consultant to help her students develop basic business etiquette skills, giving them a competitive edge in the job market. While undergoing training, Beaver quickly learned that building the foundation for good manners needs to start early in childhood – which has become difficult as our fast-paced lifestyles have shoved etiquette to the sidelines.
Explained Beaver, "I think when it comes to table manners, we've become such a rushed society that we don't take time to sit down and have meals together. As a result, there's a decline in teaching kids the importance of manners and even what good manners look like.
"One of the ways kids learn is from watching parents, and if we're sitting at the table answering our phone or texting, they absorb that and think they can do whatever they want during meals."
As a mom of one and a food blogger, Beaver blended her passion for both good manners and great food into Please & Thank You, an etiquette consulting business focused on fun, interactive classes that shake up etiquette's old-timey reputation and show kids just how far a few pleases and thank-you's can get you.
This November, kids ages six to nine can take part in Please & Thank You's Table Manners 101 class at Whole Foods Market for just $15 per child. This one-hour, hands-on class teaches kids basic table manners, such as setting a table, passing food, and properly using utensils.
In addition, each child will enjoy a special snack and create a table manners placement they can take home. Table Manners 101 will be held at the Town & Country Whole Foods location on November 10 from 10 a.m. to 11 a.m. and at the Brentwood location on November 11 from 2 p.m. to 3 p.m. Sign-ups are available by calling the stores or emailing laura@p-ty.com.
While many kids might think table manners are just one more way their boring old parents ruin all their fun, understanding proper etiquette expectations now can boost their self-confidence and help ease that social anxiety we all face at one time or another.
"Manners really are a way to building confidence in kids and help them feel comfortable in a new situation," Beaver said. "When you're sitting down to eat and you know which fork you're supposed to use and how to cut your food so it doesn't fly off the table, you don't feel so nervous. You can focus on the people you're with and really get to know them."
For more information on upcoming kids' etiquette classes, visit Please & Thank You at p-ty.com.

By Nicole Plegge, Lifestyle Blogger for SmartParenting
---
---