You are here
Roller Coasters, Funnel Cakes and the Murtaugh List
Due to a lull in our finances, the Plegges' vacation has been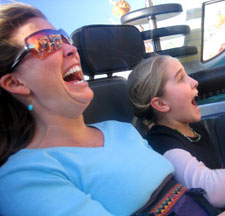 limited to a St. Louis staycation. My six-year-old, MJ, received a free Six Flags ticket through her school reading program, so we decided to take her, my 12-year-old niece and 9-year-old nephew on "vacation" to the park. The kids were over the moon – mom, not so much.
I hadn't been to Six Flags since scrunchies were in, and if memory served me right, I knew I was in for two-hour waits for MR. FREEZE and shoulder tickles courtesy of the armpit hair flowing from the guy in the sleeveless Stag shirt next to me in line – both of which would no doubt be accelerated by the St. Louis heat wave.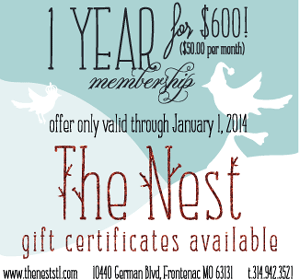 However, once we got to Six Flags, I was pleasantly surprised – the park was clean and the ride operators polite. Best of all, it was relatively quiet due to the fact that the sane people stayed at home to avoid the 105° weather, which meant no lines and a Thunder River raft all to ourselves.
I finally knew how Brangelina feels every time FAO Schwartz closes just for their brood. "Don't get used to the glamour, kid," I told MJ as she screamed in joy at riding Mine Train twice in a row.
Here's the thing about amusement parks - I used to love them. I would spend all day on Batman or The Boss, but as I've aged, I've noticed my equilibrium has disappeared along with a perky chest and lip collagen. It's a fact that was substantiated by the Disneyland episode of Modern Family in which Jay breaks similar news to Phil after a nausea-inducing trip on Big Thunder Mountain.
However, I managed to keep my IHOP breakfast down all morning – I hit up the Mine Train and Screamin' Eagle and American Thunder. Yet, by the time MJ and I rode the slowest merry-go-round on earth, I had morphed into Barfy McBarferson.
The nausea turned me into a cranky old man on his porch, yelling at the carousel operator to "Slow it down, you crazy fool! There are kids on here for gosh-darn's sake!" and waving my imaginary cane at her.
The rest of the afternoon, I downed water like a rapper chugging Cristal in a 90's hip-hop video and relaxed on the Log Flume. By 3:00, my nephew had conquered all the roller coaster with his cousins, except for one – Ninja.
Like most nine-year-olds, he was a little frightened of riding it by himself, which left me at a crossroads – do I deprive my nephew of something he really wants to do or do I stop being a pansy and rediscover that 20-year-old in me who has been banished to the kiddie rides?
I chose the latter – in dramatic fashion, I threw off my sunglasses, handed my purse to my husband, and recaptured my youth by stepping onto Ninja. I was young! I was vibrant! I was full of life!
The ride itself was bearable, considering I kept my eyes closed to maintain some semblance of balance and my mouth closed to hold in the cursing. But as the car pulled into the station, my neck felt a little shaky.
As I walked down the stairs, I felt a little queasy. And as I met up with the husband, I felt like Smalls in the chewing tobacco/Tilt-O-Whirl scene from The Sandlot and dissolved into a mom-shaped lump on the curb.
Let's face it, sitting on a curb with your head in your hands, begging God to keep you from puking on Bugs Bunny's giant rabbit feet is a real ego killer. Unless you're 21 – then you're a rock star.
The last time I was a similar position was after $1 shot nights at the White Horse Inn in Champaign. My friends stood around me, cheering my Alabama Slammer ingestion abilities and my running man skillz. Now, at 35, I was surrounded by worried grammar schoolers who patted my back sympathetically and silently pitied the old woman who couldn't handle her ride.
Annoyed and a little embarrassed, I shooed Mr. P off with the kids so I wouldn't ruin any of their fun. While they traipsed off to Pandemonium, I staggered into one of Six Flags' bars, ordered a water from a passing teen ("But ma'am, I don't work here"), and collapsed into a rocking chair next to three 60-year-old band camp chaperones who were downing beers and watching The Black Keys videos. Finally –Six Flags the way God intended.
Pouring cups of ice water down the back of my tank top, I pulled my How I Met Your Mother Murtaugh list from the file cabinet in my brain and added "riding roller coasters" right below shaving NBA team logos into my hairdo, eating slingers at 4 a.m. and slam dancing.
Then I mentally folded it up, and did what any 80-year-old would do at Six Flags – ordered myself a funnel cake and plopped myself down in the middle of the gift store to bask in the air conditioning.
Riggs, I'm too old for this stuff.
By Nicole Plegge, Lifestyle Blogger for SmartParenting
---