You are here
Program Helps St. Louis Kids Eat Healthy
Teaching kids healthy eating habits is a struggle every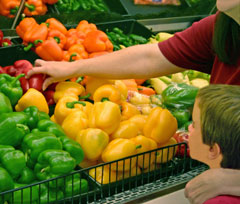 parent faces, and one that can be especially challenging for families in communities where grocery stores are difficult to get to, and where fresh and organic options are even harder to come by.
In recent months, the spotlight on this issue, which plagues families across the nation, has gotten more intense as First Lady Michelle Obama's initiative to fight childhood obesity has highlighted the importance of a diet rich in fresh fruits and vegetables. The access problem was once a neighborhood specific issue with little to no awareness outside the cities' limits, but it's now being discussed and addressed by politicians and  dieticians around the nation.
As the First Lady's campaign draws more awareness to healthy eating and childhood obesity issues, more companies are picking up the charge to help tackle the problem, including one St. Louis program that was recently recognized by the United Health Group.
City Greens, a program supported by the Catholic Charities, was recently honored as one of three area recipients of a $1,000 grant form UHC's HEROES program. City Greens is a program that provides families around the metro area with affordable, convenient access to healthy food options. 
The grant was awarded to the program to support a laboratory they are launching to teach children about the health benefits and practices of growing hydroponic vegetables. The lab aims to provide children with actionable information about hydroponic growing so they can produce food at home.
City Greens was launched in 2008 by a group of 4-H students at Metro High School, and, with the support of the Archdiocese of St. Louis, operates two farmers markets in midtown and north county, where residents have limited access to fresh grocery options. The group also offers educational programming about healthy eating and cooking through the Father Totlon Center, which opened in 2010. The hydroponic laboratory will be an expansion of the current services that are available to the community through the Center and farmers' markets.
By Melody Meiners, education blogger for SmartParenting
---