You are here
Too Many Cooks in the Kitchen? Not for Family Dinners at Our Chez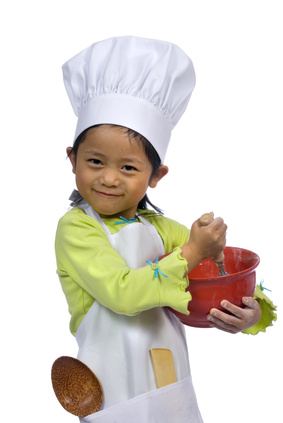 Whew! I've survived supper for the first week of school. Unfortunately, "survive" is not a synonym for "thrive" — though only once did I resort to placing an online plan-ahead order at Papa John's via my phone.
Yes, despite reading my fellow blogger Nicole's excellent post about making a mealtime plan, I stuffed my reusable grocery bags and shopping list into the car and proceeded to … leave them there for days. In fact, they're still there as I type.
Clearly, I'm already in need of Plan B. 
In search of inspiration, I came across the ParentFurther.com Family Dinners Kit. In particular, pages 9 and 10 gave me an idea. Just a few days ago, my chore-phobic fourth-grader came home raving about his teacher's brilliant plan to give each student a job and to tie his or her productivity to extra computer time. So when I saw the cleverly designed restaurant titles and nametags in that kit, I knew immediately I had my Plan B.
Now the kitchen at Chez De La Hunt is staffed with a chef, sous chef, kitchen manager, host, kitchen patrol and maître d'. (It's the first time I actually wished I had more than two kids, so we didn't all have to double up. Still, it's way better than me doing all six jobs single-handedly!)
The 22-page download has plenty of other resources too, including printable guides for how to set the table, suggestions for games to enliven a family dinner night and shopping list templates.
It also includes not-so-fun stats on the possible consequences of not eating dinner together — things like a higher risk of using tobacco, alcohol or drugs and lower grades in school. (To learn more about why family dining is so important to your child's development, watch this video from the Greater Good Science Center at the University of California-Berkley.)
Instead of rewarding my newly hired staff with extra time on Garage Band, I've created the vaunted position of pastry chef, ruler of the kitchen. And when the weekend rolls around, one lucky boy will be able to choose a recipe of his choice for our sugar-gorging pleasure. First up, these delicious cookies, courtesy of a friend of my mom's.
Zimbabwean Sweet Potato Cookies
2 ½ cups flour
1 ½ tsp. baking powder
½ tsp. baking soda
½ tsp. salt
10 Tbsp. butter
¼ cup sugar
1 Tbsp. lemon zest
1 tsp. freshly ground nutmeg
¼ cup honey
1 egg
1 cup finely grated raw sweet potato (to make grating easier, microwave the potato for a few minutes so that it's partially cooked)
Sift flour, baking powder, baking soda and salt. Set aside. Cream together the butter and sugar. Blend in the lemon zest, nutmeg, honey and egg. Fold in the sweet potato. Add to the first mixture and stir until well blended. Arrange the cookie dough by rounded teaspoonfuls on ungreased cookie sheets. Bake at 350 degrees for 7 minutes.
Lemon Glaze
1 tsp. butter
1 or 2 Tbsp. lemon juice
1 ½ cups powdered sugar
1 Tbsp. water
To make the lemon glaze: Use a wooden spoon to combine all the ingredients in a glass or ceramic bowl until smooth. Add more water by the drop, if needed, until the glaze is easy to spread on the baked cookies.  (We find it easier to make the glaze on the thin side and dip the cookies into the bowl.)
---

By Amy De La Hunt, Health Blogger for SmartParenting
---