By
Amy Burger
|
Tue, 08/15/2017 - 12:47pm
The biggest event of Summer 2017 will undoubtedly be the total solar eclipse that takes place on Monday, August 21. The last time a total solar eclipse was visible in the continental United States was 1979. The next one won't occur until 2024. For some, this could be a once-in-a-lifetime chance to see one of the most incredible natural events in our Universe. 
Fortunately, the path of totality falls directly across Missouri, including a portion of the St. Louis area (particularly its Southern half). It will reach totality in certain St. Louis County areas shortly after 1 p.m. Schools are rapidly preparing lesson plans and viewings, but for families with kids younger than school age, there are a number of viewing events throughout the area that you can attend. Be sure to check out these safety tips for watching the eclipse with young children from the Washington University Institute for School Partnership.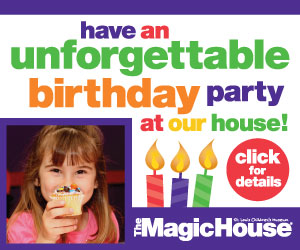 Here are some of the larger viewing parties and events:
Jefferson Barracks Park:
St. Louis County Government will host a free viewing party at Jefferson Barracks Park. Gates open at 9 a.m. and festivities will begin at 11 a.m. At 11:15, the United States Postal Service will unveil a new stamp dedicated to the eclipse. A number of food trucks will be on site for purchasing refreshments. Eclipse glasses are not included, but will be available for sale at the park at The Pavilion at Lemay for just $1 each. For information, visit stlouisco.com/ParksandRecreation.
TOTALITY Event at Chesterfield Amphitheater & Chesterfield Valley Sports Complex:
Chesterfield will host its ticketed TOTALITY event from 10 a.m. to 3 p.m. A $25 general admission ticket includes wristband, commemorative bag, eclipse glasses and general admission seating across the Chesterfield Amphitheater, as well as a pre-eclipse educational session and concert by a Journey tribute band. Blankets, bag chairs and lawn chairs are permitted. Children three and under are free. On-site festivities also include solar race cars, Food Truck Row, Micro Brew Village, Tailgate & Experiential Zone, and numerous games and vendors. For tickets and information, visit totalitymo2017.com.
James S. McDonnell Planetarium at Saint Louis Science Center:
The Saint Louis Science Center and the James S. McDonnell Planetarium are providing learning opportunities leading up to and the day of the total solar eclipse to prepare and inform visitors about this exciting event. An Eclipse Festival on August 21 will include eclipse narration by Planetarium educators and activities for all ages such as demonstrations, solar observing, food and fun. Other events in advance of the eclipse include a Live Sky show explaining how the eclipse will take place, best viewing locations and hands-on workshops; Safe Solar Observing demonstrations and more. Visit slsc.org for a complete schedule of events.
Babler Memorial State Park:
Join the staff of Babler Memorial State Park in Wildwood for the solar eclipse viewing and park open house from 10 a.m. to 2 p.m. Festivities will include the open house, a human sundial from 10 a.m. to noon, the All American Eclipse Program from 11 to 11:30 a.m. and viewing of the eclipse at 11:30. Viewing glasses will be available for sale for $1. All events will take place at the River Hills Visitor Center and in the monument field inside the park. For information, visit mostateparks.com.
The Magic House:
The Magic House will host a Solar Eclipse Viewing Party in the museum's front garden. Solar eclipse enthusiasts will have it made in the shade as they safely watch the moon pass between the sun and the Earth with a special pair of viewing glasses. The viewing party includes a variety of sun-sational activities for kids, too, including an out-of-this-world dance party. The Viewing Party takes place from 10 a.m. to 2 p.m. and is included with Magic House admission. For more information, visit magichouse.org
St. Louis County Library:
Many branches of the St. Louis County Library, including the Headquarters, will host free viewing parties (times vary by branch). Eclipse glasses will be provided while supplies last. Various branches are also hosting Eclipse Awareness programs and workshops in August leading up to the eclipse. Visit slcl.org for a complete listing of locations and events.
St. Louis Public Library – Buder Branch:
The Buder Branch of the St. Louis Public Library in South City will host a free Countdown to the Solar Eclipse Viewing Party for all ages from 1 to 3 p.m. with snacks and eclipse glasses provided. For information, visit slpl.org.
Jefferson County Library – Arnold Branch:
The Arnold Branch of the Jefferson County Library will host a free watch party from 11:30 a.m. to 2:30 p.m. with free eclipse glasses until supplies run out. Festivities include games, a food truck and a live music performance by Steve Chosich from 12 to 1 p.m. For information, visit jeffcolib.org.
If you're willing to take a longer drive for better viewing, a number of Missouri's State Parks in the path of totality will be hosting viewing events as well. Check out the complete listings at mostateparks.com.
In order to safely view the eclipse, you MUST have special eclipse viewing safety glasses. If you are attending an event or hosting a private viewing party where glasses are not supplied, be sure to purchase some in advance. They can easily be ordered online at a number of sites. Locally, St. Louis County Parks will offer them for sale for $1 per pair at the following locations:
Greensfelder Recreation Complex in Queeny Park
Affton Community Center
The Pavilion at Lemay in Jefferson Barracks Park
Kennedy Recreation Complex near Suson Park
Shaw Nature Reserve:
Shaw Nature Reserve in Gray Summit will be open for public viewing of the eclipse beginning at 8 a.m. Early arrival is recommended because a limited number of vehicles will be admitted due to limited parking availability. Visitors will receive a pair of solar viewing glasses along with a safety guide and map of the viewing area. Parking is $20 per vehicle. The partial eclipse will begin at 11:48 a.m. and totality will begin at 1:16 p.m. for a duration of 2 minutes and 26 seconds. More information is available at mobot.org
Bluebird Park in Ellisville:
The City of Ellisville will host Solar Eclipse Viewing in Bluebird Park from 11 a.m. to 3 p.m. This viewing party will include music, t-shirts, free viewing glasses, and food.  Find more at ellisville.mo.us
City of Chesterfield Total Solar Eclipse Viewing at the Chesterfield Valley Athletic Complex:
Watch the total solar eclipse on the F Fields at the Chesterfield Valley Athletic Complex from 10 a.m. to 2 p.m. Admission is free, and concessions will be available for purchase. Certified Solar Exclipse Glasses will be available for purchase for $2 at the event or you can pick them up in advance at the Parks Admin building located at 17891 North Outer 40 Road beginning on August 1. 
More Solar Eclipse Events (click on the links for more information):
It's An Endangered Eclipse at the Endangered Wolf Center
Total Darkness at the Brentwood Recreation Complex
Dark in the Park in Dardenne Prairie
Eclipse at the World Bird Sanctuary
Ballpark Village Eclipse Party
Amy Burger is a mom, freelance writer and communications professional with nearly 20 years experience working in St. Louis. Her work has appeared in numerous publications and media outlets including STL Parent, Missouri Life magazine, the St. Louis Post-Dispatch, Town & Style and kdhx.org, among others. When she's not working, she enjoys spending time with her husband and two beautiful girls at home in Kirkwood.
Comments